In the Monday night primetime matchup for week 13, the New England Patriots and Buffalo Bills will meet for first place in the AFC East division. Prior to the season, the Buffalo Bills were regarded as the AFC favorite to make the Super Bowl and the New England Patriots were expected to still be in a rebuild mode.
However, after 12 weeks neither of those things seem to no longer be the case. As the Bills have struggled the season and dropped some games to very beatable teams and the patriots have suddenly reformed the dynasty after just one bad year.
Will New England continue to exceed preseason expectations or is Buffalo finally back on course? We will share our thoughts and make a best bet pick, but let's first stake a look at the best available odds for each side of this primetime matchup.
Live Odds for New England at Buffalo - Monday Night Football
Featured Sportsbook Offers for NFL Week 13
Sportsbook
Offer Details
Offer Link

Bet $1, Get $100 Free

Use Promo Code: BVBB1

Get Offer

100% First Bet Match

Win 2x, Up to $1,001

Get Offer

Bet $10, Get $200 Free

If Your Team Scores

Get Offer
New England's Path to an 8-4 Start
The New England Patriots hold a half-game lead over the Buffalo Bills in the AFC East. New England is 8-4 on the year and have yet to have their bye week. Meanwhile, the Buffalo Bills are 7-4 on the season.
There were so many questions about how the patriots would perform after losing Tom Brady. However, they have seemingly drafted their next franchise quarterback in Mac Jones already. Jones looks like an odds-on favorite to win NFL rookie of the year and has excelled under Bill Belichick's system.
When you combine that with all the moves the Patriots made over the off-season to improve the defense and running game this is what it's all led up to. New England enters this game on a six-game winning streak and has won seven of their last eight contests. They haven't just been sliding by either as their average margin of victory during the winning streak is an impressive 24 Points.
An Up-and-Down Season Finds Buffalo at 7-4
Meanwhile, the Buffalo Bills looked to be the real deal out of the gate. As they had a big lead on the Pittsburgh Steelers in week one. However, they would wind up losing the game. Following that heartbreaking loss against the Steelers, the Bills are going to win four straight games including a victory over the Kansas City Chiefs in Kansas City.
Then in mid-October, they would fall to the Tennessee Titans and primetime on Monday night and that's where the problems began. Including the Tennessee loss, they would go on to lose three of their next five games.
It's not so much the losses that were bad, it's the team they lost to as they lost to Jacksonville and a game that didn't have a single touchdown between both teams. They would follow that up by manhandling the Jets, only to be embarrassed by Johnathon Taylor and his five-touchdown performance in Buffalo.
On Thanksgiving Day they beat the New Orleans Saints and while that may be the turning point of the struggles, only time will tell. Buffalo will have to make every game count as they still have to face New England again and the defending Super Bowl champions, the Tampa Bay Bucs next week on six days rest.
Best Bet For Monday Night
The New England Patriots have yet to lose a game away from Foxborough. While the Buffalo Bills are undefeated in three games inside of the AFC East division. To further add to the excitement of this matchup this is the first game these teams will play against each other in the month of December.
After this one, the Patriots will go on their long-awaited bye week. Then these two teams will meet again the day after Christmas. The second game is sure to have even more playoff implications attached to it.
As for this matchup between the two rivals, as of this writing the according to DraftKings Sportsbook the Buffalo Bills are 3 point favorites at -105 odds. If you take the underdog Patriots you will be getting +3 points at -115 odds. The Over/Under for the game is listed at 43.5 points and the odds for the Over are -105, while the under gives you -115 odds.
The Bills moneyline presents you with -150 odds, while the New England line has favorable odds of +130. My pick for this game is the New England Patriots moneyline and I believe they will pick up another road victory and remain undefeated away from home.
Best Bet Pick: New England Patriots +130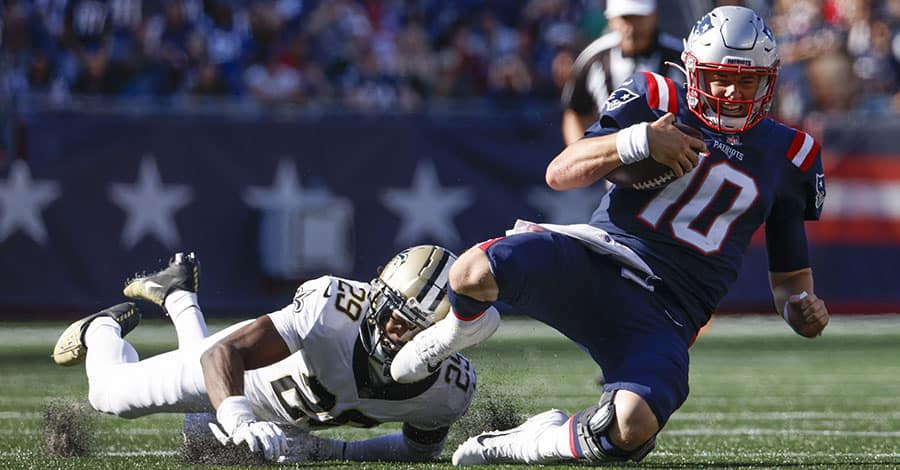 Best Player Prop Bets for Monday Night Football
With two of the NFL's top five defenses squaring off and a total currently sitting at just 43.5 points, as you might expect player props for this game came in relatively low. We still expected to find under opportunities and this first pick stuck out like a sore thumb.
Mac Jones Under 220.5 Passing Yards
There is no chance this number holds up all week and we wouldn't be surprised to see it drop to under 190 by kickoff. Jones has only topped 220 passing yards in one of his last five games. Combine that with the Bills' top-ranked pass defense, and a forecast currently calling for strong winds (25 mph) and an 82% chance of rain/snow and we have a lock.
Devin Singletary Over 39.5 Rushing Yards
While our first pick looks like a lock, this second one is going to call for some guts. Singletary has only topped the 39 yard mark in 5 of his 11 games this season. However, he has topped 39 yards in all four games in which he played at least a 50% of the Bills' snaps.
He was on the field for 68% of Buffalo's plays last week and should find success against a Patriots defense that has allowed the 30th most YPC over the past month. Singletary's averaging just under 5 YPC on the season, so if he can get to double-digit carries against a struggling Patriots run defense this ticket cashes.
Browse Latest Articles