What a game! NFL's final undefeated team, the 7-0 Arizona Cardinals host the Green Bay Packers (6-1) for TNF in this highly touted NFC matchup. Both teams are currently favored to win their division, but with Chandler Jones coming off the Covid list as Davante Adams went onto the list for the Packers, the home team is in a much better shape heading into Week 8.
In this Thursday Night Football preview, we will take a look at what to expect from each team on Thursday night, our pick for best bet for the current spread, and our favorite prop bets.

Bet $1 on Thursday Night Football, Get $100 from PointsBet
PointsBet is offering all new players an instant $100 bonus with a $1 bet on any sport. Here is how the offer works:
1.   Register at PointsBet
2.   Use the promo code BVBB1
3.   Place a minimum $1 bet on any sport
4.   Get $100 in free bets
Current Odds for Packers at Cardinals
If you take a quick look back at the preseason line for this matchup, it is interesting to see how far the Arizona Cardinals have come. Before Week 1, the Packers were supposed to be 2.5-point favorites in this spot. After Week 7, the majority of books opened with Arizona -3.5, a huge correction towards the Cards.
The Covid news has moved the line even further, with most US sportsbooks moving the number to Cardinals -6... a 2.5-point change in less than 24 hours. The total also made a sharp move down over the last 24 hours, from 53.5 to 50.5.
At the time of publishing, every US sportsbook had this game at Cardinals -6, with PointsBet offering the lowest juice on both sides of the spread and moneyline.
Live Odds for Packers at Cardinals - Week 8 TNF - 10/28/2021
Impact of the Davante Adams' COVID News
Before breaking down the actual matchup, we have to mention the recent COVID-news that surfaced Monday night from Green Bay's camp. The Packers did announce that defensive coordinator Joe Barry tested positive for Covid. Two hours later the team placed WR #1 Davante Adams on the COVID-19 list.
Vaccinated players like Adams need two negative tests 24 hours apart to be eligible to play, but at this point, it seems like a long shot that he will be able to go. Through seven weeks, Adams has 52 receptions on 73 targets for 744 yards, 14.3 yards per carry, and 3 touchdowns. Adams is widely considered a top-three WR in the league, and him being out will cause huge problems for Green Bay, as WR #2 Marquez Valdes-Scantling is also on the IL.
The remaining top healthy options in the receiving core include Randall Cobb and Allen Lazard and pretty much no one else. This is a well below league average WR lineup with Adams on the IL, and it shows us just how fragile top-heavy teams like Green Bay and the Rams are if injuries or Covid-19 starts hitting them.
It is also important to note, that the entire Green Bay team got sent into advanced COVID protocols after the announcements, which means close to a full lockdown. This will, of course, make practicing difficult and makes the game essentially Cardinals or pass for us.
What to Expect From Arizona on Thursday Night
We have to give a lot of credit to Arizona coming into this game. This Kyler Murray-led squad currently ranks second in total DVOA, 7th in offensive DVOA, and 2nd in defensive DVOA. The team did make huge improvements on the defensive end of things, allowing 0.4 yards lower average depth of target and 0.6 yards fewer after receptions, both these stats elevate the Cardinals defense among the elite defensive teams of the league.
Offensively, Murray has a 74% pass completion rate, a 9-yard average depth of target. Murray is reaching first downs with 41% of his pass attempts, which puts him above arms like Aaron Rodgers, Lamar Jackson, and Russel Wilson. Paired with a high-end receiving core of DeAndre Hopkins, Christian Kirk, and Zach Ertz makes us put a lot of faith into this unit going forward.
The Arizona running game is also worth a mention with both James Conner and Chase Edmonds contributing to the offense. Last week, both running backs had over 45 yards after contact with three explosive runs each.
Best Bet: Cardinals -6
Give us the Cardinals at any number under 7 in this TNF matchup! Arizona is coming off an easy win against the Texans where the team could get the W and the cover without a sweat & most importantly without any injuries.
On the other end, the Packers are coming off a hard-fought victory (where they got outgained by Washington) and now are unable to practice likely through the entire week. Green Bay is also very likely without its top offensive weapon in Davante Adams. This is a good spot for Arizona to improve to 8-0 and 7-1 against the spread.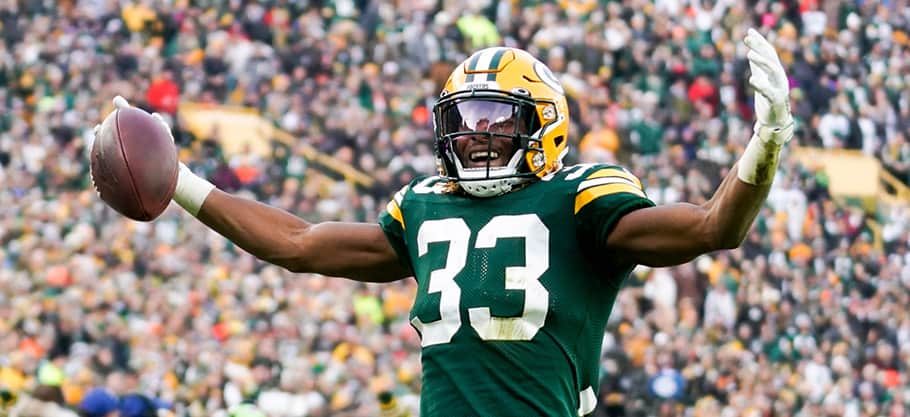 Best Prop Bets for Packers at Cardinals
Our prop bets were 5-1 last week (4-0 if you don't count games played in a monsoon) and we will look to add to that success on Thursday night. The game script is fairly hard to predict in this one as these two teams mirror each other very closely on both sides of the ball.
Both defenses have been elite against the pass and bad against the run. Arizona comes in 31st in the NFL allowing 5.0 YPC. Green Bay is actually worse, giving up 121 rushing YPG and 4.9 YPC despite playing a soft schedule against the run.
That being said, will either team commit to the run? Do they really need to? Both of these teams have benefited from relatively soft strength of schedules so far, and when tested have allowed production. That includes a near-perfect performance from Kirk Cousins against this Cardinals secondary, in a game where Murray had to throw for 400-yards in a 1 point win.
The majority of sportsbooks have pulled Packers' props as we await the Davante Adams news, but we were able to still find two bets to make with today's odds:
Chase Edmonds - Longest Run Over 12.5 (-110)
We wanted to target this Packers run defense and betting Edmonds' longest run is our favorite way to do so. We know Edmonds is explosive, he has a run of at least 12.5 yards in 5 of 7 games this season. As the primary passing-down back, Edmonds benefits from being on the field with Hopkins, Green, Kirk, and Moore. The Cardinals are able to spread the defense out and let Edmonds gash them for big plays on the ground.
The real key is volume as Edmonds has been a lock to hit this number if he reaches 8 carries. Assuming this game stays relatively close into the second half, we think he gets to 8 carries and finds a way to break one for 13+ yards.
Aaron Jones - Over 82.5 Total Yards (-110)
Like our Kamara wager on Monday Night Football, we prefer to target Jones' total yardage number over his rushing yardage number in this matchup. The current number of 82.5 is right at Jones' season average, and doesn't seem to account for the possibility of increased targets/carries with Adams out, the fact that Jones typically outperforms in primetime games, or the fact that this game could turn into a shootout.
Browse Latest Articles