Barstool Sportsbook Review
Nowadays, Barstool Sports is practically a household name. Nearly everybody knows Barstool sports for its funny content and pop culture articles when it comes to all things sports. However, they're making their appearance in the sports betting world with Barstool Sportsbook. Begin betting on all major league sports through the website or mobile app for a chance to win real cash.
This Barstool Sportsbook review will help you decide whether or not you should make a Barstool Sportsbook account. Barstool Sports will always produce good sports-related content, but this will help us decide if their online sportsbook is worth the hype.
Since Barstool Sportsbook launched, it has worked its way up to become a contender with other betting platforms and sports betting apps. From mobile betting to other casino games offered on the site, will the Barstool Sportsbook website live up to the hype? Only by checking it out and comparing it to other betting sites in this comprehensive sportsbook review can we know for sure.
Barstool Sports Betting Bonuses
For Old Customers
Barstool's sports betting site offers seasonal promotions along with the ability to receive bonuses when you refer a friend. This is perfect for those who are already Barstool sportsbook players. Other deals include a $5 bonus for profile customization and profit boosts that range from $5 to $25.
For New Customers
Barstool sportsbook also offers deals when you create a new Barstool sportsbook account. If you are interested in online sports betting, you can sign up for a new account on Barstool online sportsbook, which will give you up to a $1,000 risk-free bet, meaning if your first bet is lost, they'll return it up to $1,000. There is also parlay insurance for big events, joint sportsbook and casino bonuses, and soon, a Barstool Sportsbook promo code.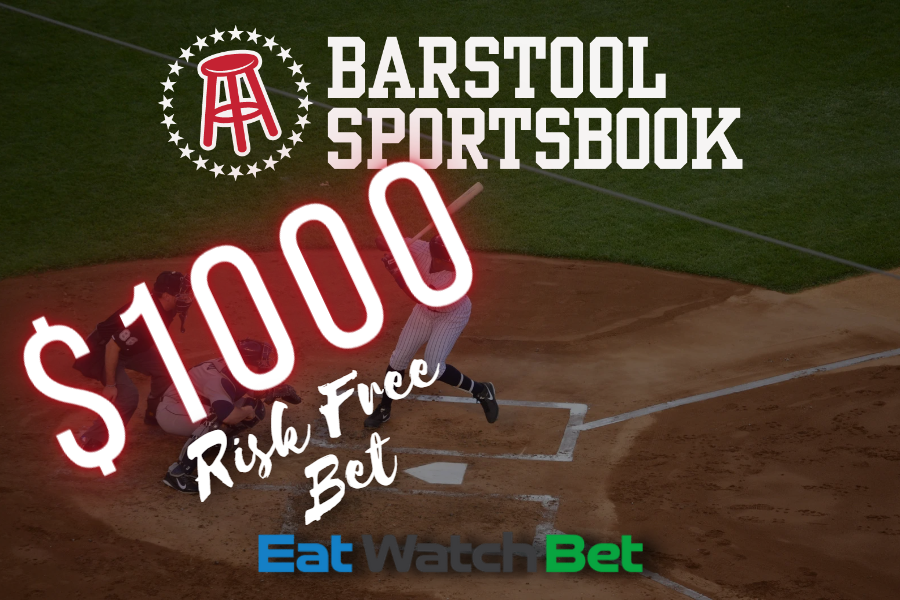 Key Features of Barstool Sportsbook
If you're interested in checking out Barstool Sportsbook, here are some of the key features that help it contend with other online sports betting websites and betting options. First, its connections with Penn National Gaming, which has a plethora of industry knowledge, set Barstool Sportsbook apart from most betting websites.
Another awesome feature is the Barstool Sportsbook mobile app. This is perfect for those looking to participate in live betting and use the barstool casino while out of the house. The Barstool sportsbook app is compatible with ios and android devices, ensuring you'll be able to access barstool exclusives wherever you are.
Lastly, the flexible parlay options allow you a quicker chance for players to win that first payout. Having more leeway for betting in this way improves the experience for new and old players alike. Whether on your computer or using the sportsbook app, you can access these features anywhere at any time.
Payment Methods
Deposit
Barstool Sportsbook offers 8 different deposit methods to choose from. This includes Credit/Debit cards, wire transfers, PayPal, and Apple Pay. You'll never have to worry about how to get money into your account or how to fund your next sports bet with this range of ways to deposit it.
Withdrawal
When you are ready for your Barstool Sportsbook payout, options for getting your winnings are a bit less than making deposits. There are only five ways to get your earnings, including Paypal, which allows for instant money processing, online banking, or a check. These limiting options can be frustrating, but don't let them deter you from giving Barstool Sportsbook a try.
Types of Sports that Can be Bet On
Barstool Sportsbook has a variety of different sports and leagues you can bet on, including the NFL, MLB, NBA, Boxing, Motorsports, Cricket, Rugby, and the Olympics. This is by no means close to the number of sports that can be bet on by using Barstool Sportsbook. If you can find it on most other major online sports betting platforms, you can most likely find it on Barstool Sportsbook.
Loyalty Program
Something cool you can find on Barstool Sportsbook or the Barstool mobile app that you may not be able to access on other online sports betting apps or sites is the loyalty program offered on the platform. This program is linked with Penns "mychoice" loyalty program.
This means you can earn double the points through both Barstool Sportsbook and Penn National Gaming. This helps you better unlock new rewards and deals. You'll have to make a deposit to access this, but once you do, you can be on your way to winning a player bonus and improving your sports betting experience.
Other Games Besides Sports Betting
Not everyone is into sports betting. That doesn't mean you can't use Barstool Sportsbook. Barstool sports brings with it more than being an official sportsbook. You can use the Barstool online casino through the website or the mobile app to play poker or other traditional casino games. There are plans to expand game options as the platform grows.
Barstool Sportsbook doesn't currently have a racebook like other competitors. However, that may also be something added as the platform expands. Don't let this deter you from trying out the platform. Sports bettors may find other aspects of Barstool Sportsbook that make it a worthwhile site.
Cons of Barstool Sportsbook
Though there is a lot to like about Barstool Sportbook, there are some cons that may not make this site for everyone. Despite the Barstool Sports brand being big amongst the sporting community, Barstool Sportsbook is still a very new platform, so it hasn't had enough time to catch up to other competitors.
As mentioned earlier, Barstool Sportsbook doesn't have a racebook, unlike other competitors. So if that's specifically what you're looking for, Barstool Sportsbook may not be for you. You'll either have to use another platform for horse race betting or not use Bartsool Sportsbook at all.
Another area that Barstool Sportsbook lacks is its inability to accept cryptocurrency. While you can find another sports betting site that does, Barstool Sportsbook is not up to that caliber yet. Luckily, they accept other common payment methods that still make the site enticing to Barstool Sportsbook customers.
Customer Service
Barstool sportsbook offers 24/7 customer service through email, live chat, or social media. Response time is fairly quick, and representatives are patient and willing to answer questions and concerns.
There is also a very detailed FAQ section that allows you to answer your own questions without having to contact a customer service representative. You won't have to worry about confusion using the Barstool Sportsbook site or mobile app.
Should I Try Out Barstool SportsBook?
Although we hope this Barstool sportsbook review has helped shine a bit of light on the subject, you may still be wondering, "Is Barstool Sportsbook legit?" Well, its position as a part of Barstool Sports and its ties with Penn National Gaming make this a betting site worth checking out for anyone interested in online sportsbooks and online betting.
For the most part, Barstool Sportsbook is up there with many other major sportsbooks out there. Since Barstool Sportsbook launched in 2020, making it pretty new, it still lacks other features that some major sportsbooks may have. But with time, Barstool Sportsbook will be able to grow and improve its capabilities.
Most states where gambling is legal are Barstool Sportsbook states, including Maryland, Kentucky, Colorado, Arizona, and Pennsylvania. Create an account and begin your online sports betting with Barstool Sportsbook. From there, you can enjoy their new customer bonuses, loyalty program, and comprehensive Barstool sportsbook app.
Once you're set, wager online with straight bets and parlays, and enjoy cash bonuses, odds boosts, and other other bonuses. Then, enjoy gaming and watch as the site grows to become a real contender as a major online sportsbook and stands above most betting sites (i.e., Bet65 sportsbook and Desert Diamond) and other betting options.