Bally Bet's Rapid Growth Fueled by Tech and Generous Bonus Offers
Bally Bet is one of the fastest-growing sports betting companies in the US market and their current promo code offer is a prime example of why players love this sportsbook. First introduced in Colorado and Iowa, Bally Bet recently added Arizona, Indiana, and Virginia to it's list of available states, with a pending launch in New York that could come any day now.
Backed by Bally's iconic brand name, the Bally Bet app uses the Bet.Works system under the hood to handle its sportsbook and wagering.
Bet.Works was acquired by Bally's in June of 2021 and with it, they acquired all of the proprietary software and technology stack needed to run a state-of-the-art sports betting app. It was a perfect synergy, combining the trusted name of Bally's with the cutting-edge technology of Bet.Works to bring bettors the ultimate in what a sports betting app should be.
Details for the Current Bally Bet Sportsbook Promo Code Offer
Technology may be important, but just as important to new players are the bonuses, special offers, and deals available to new players. So below we will take you through every detail of the current Bally Bet promo code and what you should expect when you sign up using our offer code.
| | |
| --- | --- |
| Promo Code: | No Code Needed |
| Signup Bonus: | $100 Free Bet |
| Deposit Bonus: | $550 Risk-Free Bet |
| Offer Dates: | Offer valid 6/1/2022 - 6/30/2022 |
| Terms: | Must be 21+. Restricted to Arizona, Colorado, Iowa, Indiana, and Virginia. |
In addition to the four states listed above, Bally Bet is amongst the approved New York sportsbooks set to launch in time for Super Bowl LVI. The sportsbook is also expected to be live in Louisiana in time for the big game, which will give Bally Bet a total market reach of six states.
We will track the bonus offers Bally Bet runs in each new market here. It is worth noting that sportsbooks typically offer more generous promotions in new markets to attract first-time bettors in those states.
Details for the Current Bally Bet Sportsbook Promo Code Offers
Bally Bet has several promotions going for first-time customers and they are some of the best around, so you will definitely want to take advantage of these offers. Especially the "First Bet Free" offer which is arguably the best sportsbook promotion available this April.
This offer includes a $100 free bet when you sign up. There is no deposit required to receive your free $100 wager, however, an additional bonus is available if you choose to make a deposit.
With Bally Bet's second promo code offer, you are rewarded for making a larger initial deposit. In this case, the offer covers up to $550 if your first bet loses. So if you deposit $550, you can place your first bet with that amount and, if it fails to cash, Bally Bet will refund the full wager.
The terms for the no deposit promotion are relatively straightforward. A $100 free credit will be given to your account after signing up. You will receive an electronic notification once your account has been credited, and once you receive that you're free to place your bet.
But the two offers are not the only promotions Bally Bet has going. They are constantly running smaller offers that are nearly just as good and these are available to existing Bally Bet sportsbook users.
The first worth noting is their Monday Happy Hour Offer. Enjoy reduced spread lines of -105 for every pro-football game from noon until kickoff.
Another offer Bally Bet has going helps keep that juice low with their Thursday Happy Hour Offer. Similar to Monday Happy Hour, but from 1 p.m. to the kickoff of Thursday Night Football, you get reduced spread lines of -105. This is very similar to the PointsBet promotion that features reduced juice on NFL game days, however, it is worth noting that PointsBet offers spread wagers at +100 odds.

Bally Bet Rewards Program Overview
Reward programs are something most people expect now with sports betting apps, particularly with the growing popularity of Caesars Rewards which are now available through the Caesars Sportsbook.
The current Bally Bet rewards program is not the strongest among the other apps out there and is a little stingy on the points, so it may be one of the negatives against Bally Bet. They do have smaller reward programs built into the larger program which does help round out the offers though. These include a trophy award system that awards points based on certain betting milestones as well as the ability to earn points towards stays at Bally's resorts nationwide.
The Trophy system, in particular, is good, especially if you are a frequent bettor on specific sports as the trophies and points can add up quickly. This is an example of how Bally Bet continues to rapidly evolve its sports betting product to compete with the larger brands in the US market.
Setting up a Bally Bet Account Through the App
The process of setting up your new account is as easy as possible and Bally Bet has done a great job streamlining the process so you can get that first bet locked in fast.
The first step will be to enter your basic information, such as user name, password, and email address. This is all straightforward and you should have no issues here.
Next, you will enter your personal information. Much of this is required by law, so Bally Bet has no option other than to ask for it. It only takes a few moments, so push through it and you'll be betting in no time.
One thing to be careful of here is the personal information you enter needs to be 100% correct. The system does an automatic identity check required by law and if there is a discrepancy in the information, you may have an issue. So make sure your name and other information are exactly as it is on your state identification and also the same as what is used for your banking. Don't use nicknames, shortened names, old addresses, or anything like that.
Also, for those who don't want to sign up with a phone or find it difficult, you can create an account via their website as well.
Bally Bet FAQs
Have questions about Bally Bet? We've got answers for you! Here are some of the most commonly asked questions and answers to help provide you with some basic info about Bally Bet.
How many states is Bally Bet offered in?
Bally Bet is currently available in 5 states. Sports bettors in Arizona, Colorado, Iowa, Indiana, and Virginia can take advantage of the current new customer promos.
Does Bally Bet plan on expanding into new markets?
Yes, Bally Bet is planning on launching in New York and Ontario very soon.
Does Bally Bet have an app?
Yes, Bally Bet offers a user-friendly app for both iOS and Android users. The app currently has a 2.3 rating on the App Store and a 3.5 rating on the Play Store. The app is still relatively new, so those ratings should only go up.
Has Bally partnered with any pro sports teams?
Yes, Bally Bet has secured deals with the Phoenix Mercury, Nashville Predators, and Cleveland Browns.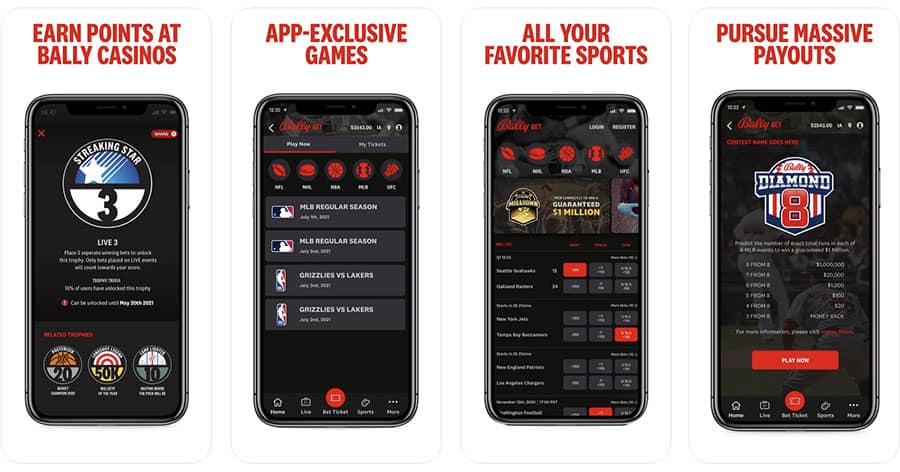 Bally Bet Sportsbook App Review and Rating
So let's talk about the app itself and how it is to use when it comes time to place that bet. Bally Bet offers all the different types of wagers you would expect from a modern sports betting app. Bet types currently available in the app include your standards like spreads, moneylines, totals, parlays, teasers, player props, live betting, single-game parlays, and plenty more.
The parlays and teasers, in particular, are easy to set up in the app and as you add your straight bets, the total payout is updated automatically as you go. It's all presented very cleanly and well organized so you always know exactly what's going on.
As for the sporting events and leagues to bet on, Bally Bet has a very good offering here and you should have no problem finding what you want. Not quite as many of the smaller sports or events as some of the biggest players out there, but every major sport and league is featured, even ones you may not even be familiar with yet.
In our testing and feedback from users, the app performed great. There were no crashes reported or any similar issues. So the platform appears to be stable and runs well on almost any phone or tablet.
Of course, if you prefer to work on a desktop or laptop instead of a phone, they have you covered there as well. You can access everything, including account signup, right from a computer. The layout is similar and just as easy as the app to navigate. So there is no downside to using the desktop version if you prefer that format.
Overall, Bally Bet is a great entry into the sports betting app market and if you live in Colorado, Iowa, or Virginia.
They are also licensed in Indiana and preparing for launch in the Hoosier state and were one of the initial 9 sportsbooks approved to offer mobile sports betting in New York.
With the current Bally Bet promo code offer, it is an absolute no-brainer to sign up and give their app a try. There is no risk, you will get a $100 free bet just for registering, and it's very possible you may enjoy what they have to offer on the platform. If you do choose to make a deposit, you will receive a second bonus offer that includes up to $550 in risk-free bets.
| Review | Bally Bet SportsBook |
| --- | --- |
| Details | Bally Bet was late to the party in the US sports betting market, but have wasted no time making waves in the industry. The sports betting app has improved tremendously with every update and the new player bonus offers are amongst the best in the industry. We expect Bally's brand to only grow as they have been aggressively expanding into new states and rolling out product updates over the past six months. While the app currently trails leaders like FanDuel and DraftKings, Bally Bet seems to be gaining ground quickly and are worth keeping an eye on in 2022. |
| Author | Chris Lollis |
| Rating | 4.4 (out of 5) |