Game 3 started out like the previous 2 with the Avs jumping out to an early lead on a Gabriel Landeskog power-play goal at the 8-minute mark. However, the Lightning was quick to respond this time.
Cirelli and Palat net goals before the end of the 1st period to take a 2-1 lead. Nick Paul scored early in the 2nd before Landeskog netted another power-play goal to cut the lead to 3-2. Tampa put up 3 more on the board to get up 6-2 at the end of 2. The 3rd period was scoreless by both teams to the pleasure of Tampa fans. Vasilevskiy made 37 saves in route to the win and now has a pulse going into game 4.
Game 4 will be an opportunity for the Lightning to even this series and get the momentum on their side. Vasilevskiy will need the same version of himself from game 3 and if so, the Lightning should be able to pick up yet another one.
Live Odds for Game 4 of the Stanley Cup Finals: Avalanche at Lightning
For the second-straight game, the Tampa Bay Lightning opened as slight favorites over the Avalanche. Game 3 was the first time this postseason that Colorado was an underdog. The total for Game 4 opened at 6 and has bounced between 5.5 and 6 at most books. Here is a live look at the best odds available for both sides and the total.
Best Bet for Game 4: Tampa Bay Lightning
Best Available Odds: -105 at DraftKings
We have been backing the Lighting this series and we are going to continue to do just that. Game 3 was the 1st road loss of the postseason for the Avs and we don't believe they are going to bounce back in this one. Outside of the power play, the Avs offense was nothing to write home about. Tampa, on the other hand, was efficient and productive. This continues Wednesday night and the Avs go home with e tied series and a big momentum shift in their opponents' direction.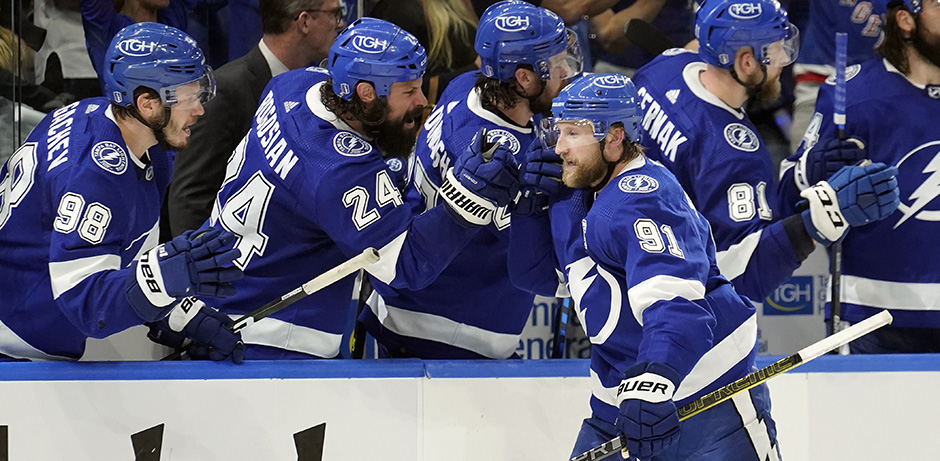 Best Player Prop Bets for Game 4
We cashed all of our game 3 prop bets and will look to keep that momentum rolling on Wednesday. For the second straight game, we are loading up on Lightning overs tonight. Here are our best prop bet picks for Game 4:
Corey Perry OVER 1.5 Shots on Goal
Best Available Odds: -122 at FanDuel
We hit our Killron over 1.5 shots last game. For Game 4, we are rolling with Corey Perry. He had 4 shots on goal last game and 3 in the game previous. He averaged closer to 2 shots per game in the regular season but has been averaging just around 1.5 this postseason. He should be active again in Game 4 and bring his postseason number closer to his regular-season average.
Victor Hedman OVER 0.5 Assists
Best Available Odds: -110 at Caesars
Hedman came through for us by grabbing 2 assists in Game 3. We are going to stick with Victor here in Game 4. We are expecting a handful of goals again by Tampa and Hedman should be our facilitator once again.
Steven Stamkos Anytime Goal
Best Available Odds: +150 at BetMGM
Stamkos has scored 10 goals in his 20 games this postseason. He is coming off a 1 goal game in Game 3 and is averaging just 0.6 goals over his past 10 games. The last time he scored in back-to-back games? It was Games 3 and 4 at home against the Rangers in their last series. Let's have a repeat of that scenario here and cash out plus money ticket.