The story of the year in the ACC, both for punters and fans, is Duke Blue Devils' head coach Mike Krzyzewski's retirement. After 41 years and 12 ACC regular-season championships, Krzyzewski's final team is, by Duke's standards, good but not great. But it is a down year for the ACC and the Blue Devils are good enough to be the best team in the ACC and by a wide margin per Vegas.
Current ACC Title Betting Odds
Latest Odds from PointsBet SportsBook
| Team | Odds |
| --- | --- |
| Duke | +430 |
| Florida State | +480 |
| North Carolina | +1100 |
| Virginia Tech | +1200 |
| Louisville | +1400 |
| Virginia | +1400 |
| Syracuse | +1800 |
| Notre Dame | +2000 |
| Team | Odds |
| --- | --- |
| Clemson | +4000 |
| Georgia Tech | +4000 |
| North Carolina State | +4000 |
| Miami | +4000 |
| Wake Forest | +4000 |
| Pittsburgh | +4000 |
| Boston College | +4000 |
Current ACC Title Odds
The ACC opens conference play on Friday, Dec 3rd, and PointsBet current has the Duke Blue Devils a heavy favorite (+140) to enter the ACC tournament as the #1 seed. Florida State (+550) and North Carolina (+600) are the Blue Devil's most likely challengers, in theory, but +140 to +550 is a big jump. Hanging out in long-shot land is Virginia Tech (+950), Louisville (+1000), and Virginia (+1400).
The rest of the ACC has little chance of exceeding expectations during a season-long campaign. If you are looking for a deep flyer in the ACC, Norte Dame (+2500) returns all five starters and has an established rotation and system. Go-to scorer Prentiss Hubb could blossom in his senior year and improve on his subpar performances against better teams, highlighted by an 0-7 floor game against Purdue in 2021.
Best Bet: Duke +140
We are not going to bet against Coach K in his final season. If ever there was a year for getting the benefit of the calls, it is this year. The Cameron Crazies will get lit for a mid-week game against Georgia Tech. Duke is a young team, two key players are the number 18th and 19th ranked incoming freshmen AJ Griffin and Trevor Keels, respectively. They will have to weather the emotions of the season as every team in the ACC conducts some Coach K retirement tribute ceremony.
We bet Coach K will manage that. There is more to love about taking Duke to win the ACC regular-season prior to the start of conference play.
AJ Griffin is still getting into game shape after recovering from his knee injury. Despite being a projected starter, Griffin only logged six minutes against #3 Gonzaga and just two against Ohio State. Griffin's absence during the OSU game was noticeable as Duke's offense had long stretches of futility against an active, and at times stifling Big 10 defense.
As AJ Griffin returns to game shape, Duke's odds will drop. Duke's early conference schedule is a cupcake. The Blue Devil's don't play Florida State until Jan 18th and North Carolina until Feb 5th. This offers Coach K and Griffin plenty of time to find a rhythm. A side note, the schedule makers did the college basketball world a huge favor. Duke plays UNC at Cameron Indoor Stadium to end the ACC regular season.
We doubt that game will matter for our wager. But if it does, UNC is likely to be underdogs, and a single-game money line bet on the Tar Heels functions as a hedge.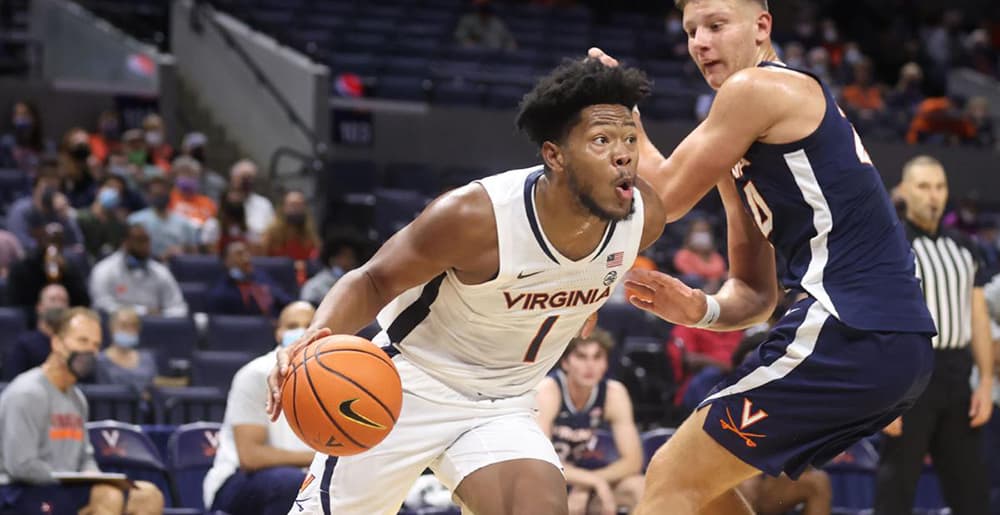 Best Longshot Bet: Virginia (+1400)
There are better teams in the ACC. None have the potential, or frustratingly glacial playstyle, of the Virginia Cavaliers. At +1100, we like the return on investment versus upside risk/reward ratio and think Virginia is the most under-valued of the teams with any chance of finishing ahead of Duke (+140).
Duke is the clear lead dog of the ACC and again trends toward the one-and-done model with two starting freshmen projected as 2022 NBA draft picks. While a young team, Duke's Coach K has the horses to run away with the conference. Virginia is a long and rangy team, capable of frustrating Duke's freshman phenoms.
Florida State (+550) and North Carolina (+600) are established teams relying on depth and experience. Vegas gives the Seminoles and Tar Heels the best odds of topping Duke. Those odds are priced fairly and neither team has a catalyst to change the narrative.
Virginia does have that catalyst. His name is Jayden Gardner. ACC fans, get used to hearing that name. The 6'6" shooting forward will challenge Buddy Boeheim for leading scorer in the ACC. If the senior transfer from East Carolina maintains at least some of Virginia's defensive integrity, Virginia threatens the better-known teams with a usually slow pace of play and, with Jayden Gardner, a more dynamic offense capable of quick buckets.
If, or as we think, when Jayden Gardner asserts himself offensively, the odds for Virginia to win the ACC regular season will align with FSU and North Carolina. Virginia is underpriced at +1400, in part, because the betting market for Virginia basketball is dwarfed by Duke and North Carolina supporters. The ACC also hosts marquee programs like Syracuse and Louisville. Few people are looking at Virginia basketball.
Maybe… because it's boring to watch. Virginia's strategy is to slow the game way down and minimize the number of possessions. They rank dead last among all NCAA basketball teams, 358 out of 358, for possessions per game. Betting on an edge-of-bell-curve stat can be risky but we love this one.
Taking amped up 18- to 22-year-olds and forcing them into an ancient and unfamiliar playing style is worth a flyer. Opposing teams will almost always be playing Virginia's style of basketball, and now Virginia can change the pace of play with the dynamic scoring of Jayden Gardner.
Browse Latest Articles