The NFL Week 17 schedule features a loaded Sunday slate with 15 games capped off by an NFC North showdown featuring the Vikings and Packers on Sunday Night Football.
My prop picks went 2-3 last week with a few disappointing performances. We were winners on an over bet on Kyler Murray's rushing yards and an under bet on Saquon Barkley's rushing yards.
The Jets went extremely run-heavy while playing with a lead for most of the game against the Jags, limiting Zach Wilson to only 22 attempts and costing us on his passing yards prop. Christian Kirk managed only 48 yards on 9 targets against the Colts, missing his receiving prop by 6 yards. Finally, Javante Williams missed his 2.5 receptions prop by a hook.
Let's shoot for redemption and a perfect 5-0 performance with my favorite prop bets from the entire NFL Week 17 slate. Each of these props is not only available at most sportsbooks but can be found on Underdog and Betcha as well.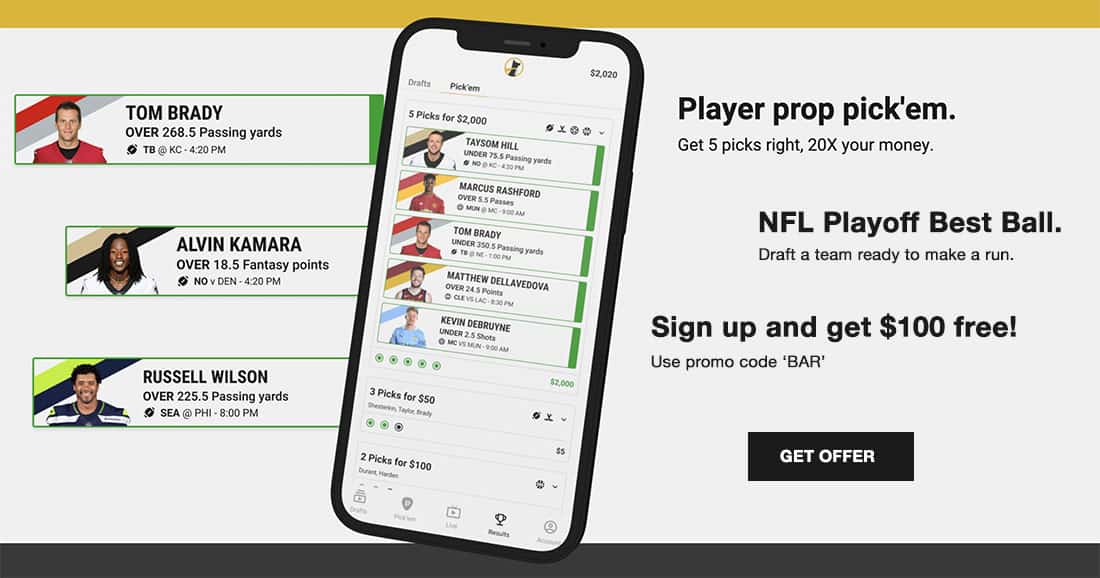 Ryan Tannehill – Passing Yards Prop: 215.5
There's no hiding it… Ryan Tannehill hasn't been the same quarterback since Derrick Henry was sidelined with foot surgery.
The veteran quarterback hasn't necessarily been bad, but he certainly hasn't been stellar without the same support from the backfield.
Tannehill's last four times out have accounted for 209, 153, 191, and 93 passing yards, respectfully.
Throw in the stakes this week with a red-hot Dolphins team that was won seven straight games and is vying for a playoff berth and you have a recipe for disappointment from the Titans signal-caller.
The Dolphins are fantastic putting pressure on opposing quarterbacks, leading the league in sacks, while Tannehill is sacked the second most. I'd expect Brian Flores to ratchet up the pressure and try to get Tannehill on the ground early.
I wouldn't expect much from the Titans' offense or Tannehill this Sunday.
The Pick: Under 215.5 Passing Yards
Antonio Brown – Receiving Yards Prop: 75.5
It's easy to see how much Tom Brady missed one of his favorite targets in Antonio Brown last week, who racked up 101 yards on 15 targets and 10 receptions after coming back from suspension.
The Tampa Bay offense is simply decimated at the skill positions and aside from Rob Gronkowski at tight end, there really aren't many suitable options for the Bucs quarterback to target.
Brown has accounted for 90+ yards in four of the six games he's played in this year and with the receiving corps and Leonard Forunette still hobbled, I don't really see a scenario where Brown doesn't reach double-digit targets.
Let's go with an easy over on Antonio Brown this week.
The Pick: Over 75.5 Receiving Yards
Jalen Hurts – Passing Yards Prop: 189.5
Hurts and the Eagles go up against a Washington defense that they faced off against just two weeks ago.
In that contest, Hurts connected on 20 of 26 passes for 296 yards and one touchdown in one of his best performances of the season.
With the Eagles battling for a playoff position and needing a victory to remain in, I would expect them to be highly locked into this one.
Hurts has thrown at least 23 passes in four of five weeks and I would anticipate that trend to continue. Given the emergence of Dallas Goedert and a reliable backfield option in Miles Sanders, I think that should be just enough to get Hurst some open looks down the field.
The Pick: Over 189.5 Passing Yards
Joe Burrow – Passing Yards Prop: 275.5
Joe Burrow was absolutely sensational a week ago, accounting for 525 yards through the air. While I wouldn't expect that type of performance again, I do expect Burrow to have his fair share of success against the Chiefs this week.
This is a big game for both squads, as the Chiefs can lock up a bye and home field throughout the playoffs with a win.
The Chiefs defense has allowed 275 yards four times this season, however, all of those came within the first five weeks of the season. Since then they have been stellar and I anticipate that defense will travel well to Cincinnati and slow down the Bengals attack just enough to keep Burrow under the mark.
The Pick: Under 275.5 Passing Yards
Devin Singletary – Rushing Yards Prop: 45.5
Devin Singletary remains the top option in the Bills backfield, nabbing 12 and 22 carries in respective weeks.
While he doesn't pack a ton of speed, he does generally fall forward and end up averaging somewhere between 3.5 – 4.5 YPC.
The Bills go up against a Falcons team clinging to hope this week, but they have playoff aspirations of their own and would like to sew up the AFC East crown. I would anticipate the Bills trying to get up early and milking this one in the second half, which would lead to more carries for Singletary.
The Falcons defense has been pretty horrible against the run this year, giving up an average of 93.4 yards per game to opposing running backs. They've surrendered 100+ in eight of their last 10 games.
The Pick: Over 45.5 Rushing Yards