After a Wild Card week that was full of blowouts and only one lower-seed win (49ers over Cowboys) we have made it to the final eight, or as most people call it, the Divisional Round. Now is when we find out who is truly a Super Bowl contender, and who is just here because they got a couple of lucky victories along the way. This is also our first chance to see the two number one seeds in action.
The Tennessee Titans finished as the AFC's number one seed and face off with what may be many people's surprise team of the season, the Cincinnati Bengals. Will King Henry return and lead the Titans into the AFC Title Game or will Joe Burrow pass his way to another playoff victory in his sophomore season? We will find out at 4:30 on Saturday, if you want to read our lean on this game find our betting guide here. In this article, however, you will find our favorite player props for this matchup.
The Cincinnati Bengals finally got their first playoff win in three decades. Joe Burrow had an amazing performance, especially considering it being was his first career playoff game. He comes into this one with some heavily-juiced odds on some popular props. Meanwhile, for the Tennessee Titans, they may be getting their superstar running back on the field for the first time in weeks, which opens up a ton of betting possibilities.
We have added the market's best available number and juice for each of these prop bets. For readers in non-betting states, the majority of the bets found here are available at Underdog Fantasy this week as well.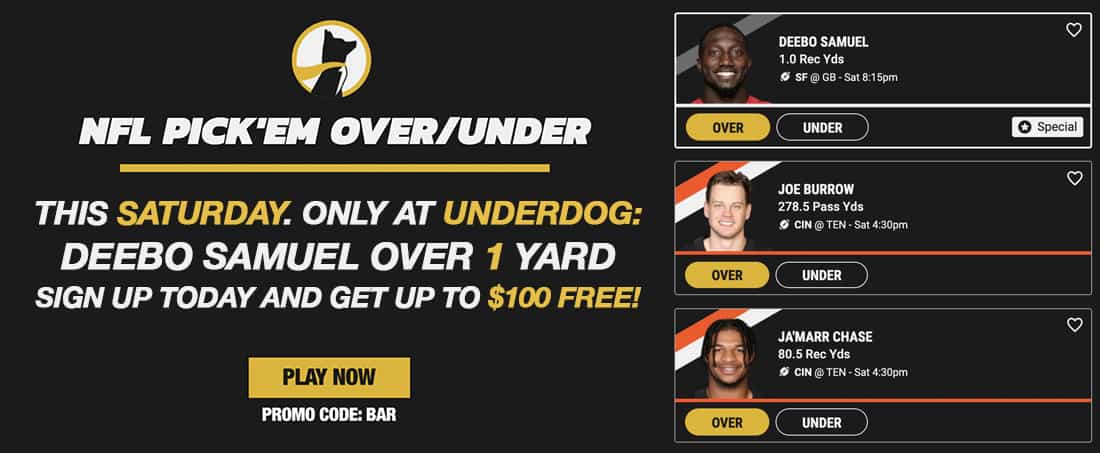 Anytime TD Score- Jamarr Chase
Best Number Available: +130 at FanDuel
The electric rookie wideout from LSU will almost certainly find himself in the endzone this weekend. In the Bengals wildcard victory over Las Vegas, Chase was nearly unstoppable catching 9 balls for 116 Yards. However, he failed to get a touchdown and that is something I don't see happening two weeks in a row. This is why he's one of my favorite props this weekend to find the endzone, as he looks to help take the Bengals to the AFC championship game.
Anytime Scorer- Derrick Henry
Best Number Available: -180 at BetMGM
The best running back in the National Football League is likely to return for this one. There is no keeping him out of the endzone in my opinion as he is sure to be well-rested and will see a ton of action as the Titans look to pick up a huge playoff win. For his career, Henry averages just under 130 yards per game in the playoffs. There are a few Henry props that offer decent value including his current number for carries, yards, and this anytime TD prop. I expect Henry to play a huge part in the outcome of this game and, being his first game back, all of his props are available at a slight discount.
Joe Burrow: Over 1.5 Passing Touchdowns (-180)
Best Number Available: -170 at FanDuel
Burrow was on fire last weekend, throwing for 244 yards and two touchdowns, and I expect more of the same from him in this game. In fact, he has been on an absolute tear for a month now, with a QB rating of 130.25 over his last four games! He has averaged 33.5 completions over his last two games and I expect two or more of his throws in the Divisional Round to be touchdown passes caught by Chase, Uzomah, Boyd, or Higgins. If the Bengals do fall to the Titans this week, it won't be on Burrow's shoulders.
Joe Mixon: Over 60.5 Rushing Yards
Best Number Available: +105 at Caesars
In last week's victory, the one negative for the Bengals was that Joe Mixon struggled to get going. Mixon was one of the best running backs in football this season and I look for the Bengals to try and get him more involved in this game to try and control the clock and keep Tennessee's offense off the field. Amazingly, bettors can get plus-money juice on this prop at Caesars, the market price on this is -115.
A.J. Brown: Over 5.5 Receptions (-115)
Best Number Available: -115 at Caesars
Brown is one of Ryan Tannehill's favorite targets and I expect him to get the ball a lot in this one, as Tennessee will still need to pass to be able to win this game. Brown will likely see about 10 or so targets if the Titans get behind as well which makes this prop even more profitable with or without Derrick Henry on the field for this high-stakes playoff matchup. Brown could potentially end up being the Most Valuable Player in this game as well if he can find ways to get open for Tannehill.