The first Divisional Round game on Sunday will feature the Los Angeles Rams traveling to Tampa to take on the Buccaneers. This game has the second-highest total of the Divisional Round games and features two of the NFL's top 6 offenses. Here are our 5 favorite prop bets, including our two favorite longshot props, for the Rams at Bucs.
We have also provided the best number on the market for each of these bets and most of these wagers can be found in non-betting markets on the Underdog Fantasy app. Be sure to also check out our pick for best bet for Rams at Bucs.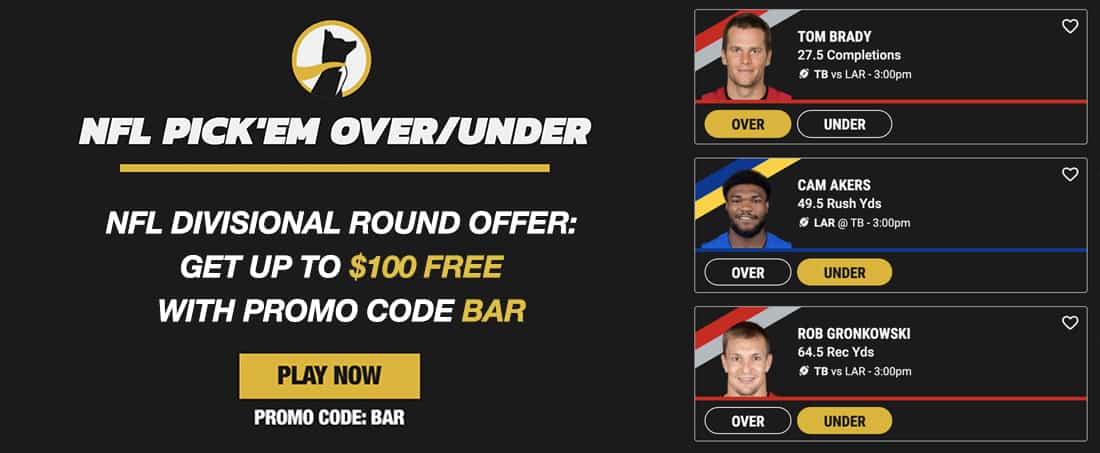 Rob Gronkowski UNDER 64.5 rec yds
Best Available Number: -105 at DraftKings
On the season, the Rams have allowed only an average of 50.06yds per game to TEs. Keep in mind, that is plural, as in multiple tight ends. We saw Cameron Brate and O.J. Howard get a combined 4 targets to Gronk's 6. In the previous 2 games, Gronk was able to get 10 targets a piece for 100+ yards in each.
The Eagles were focused on keeping him in check and so will the Rams in this one. The Birds were able to hold him to just 31 yards and Brady is obviously more comfortable now with spreading around his targets with Godwin and AB gone for the rest of the way.
On the season Gronk has only surpassed 64 yards only 4 times in the last 12 games. Also, Leonard Fournette is probable to play in this one and that just adds to the targets and weapons that Brady will have at his disposal. I like the odds of him going under much more than the chance that he goes over.
Matt Gay OVER 6.5 Points
Best Available Number: -110 at Caesars Sportsbook
Is this a flashy prop? No, but all tickets do cash the same. In their last meeting, Gay finished with 10 points going 2-2 on field goals and 4-4 on extra points. On the season, he has gone over this total in 15 of the team's 18 games.
Gay is hitting field goals at a 94.1% rate and has missed only 1 extra point all season. Also, the Rams are near the bottom of the league in 4th down attempts. McVay will take any points he can get in this matchup just as he did in the previous one. On 4th and 1 at the 8-yard line, McVay elected to kick instead of trying to pick up the 1st and this was after they drove almost 70 yards down the field.
Lastly, the Bucs are 9th in the league in red zone defense. This only plays more to the likelihood of McVay kicking in 4th down spots inside the red zone.
Matthew Stafford UNDER 37.5 Pass Attempts
Best Available Number: -114 at FanDuel
The Bucs are last in the league in pass attempts from opposing QBs with a 39.94 average. In fact, Stafford went over this total in their meeting earlier this season. So why do I like the under here? Mainly, the return of Cam Akers. He, along with Michel gives the Rams a different dimension offensively with a rushing attack that has not been seen at all this season.
The more the Rams can run the ball, the fewer opportunities Stafford will have to throw. It is my assumption that they will try to establish the run as much as possible in order to keep Brady off the field.
Stafford has only gone over this number 7 of his 18 games this season. In their previous meeting the Rams only ran the ball 22 times compared to the last game, with Akers back, they ran it 38 times. I expect more of this rushing attack against the Bucs and Stafford to come in under the total attempts here.
Longshots Props Worth a Dart
Feeling lucky? Here are our two favorite prop bets with odds of +1800 or higher for this NFC Divisional Round matchup.
1st TD - Cameron Brate
Best Available Number: +3000 at Draftkings
The Rams will be sure to defend and possibly double Gronk in the red zone, this will leave Brate with single coverage opportunities
Brate was 4 yards away from getting the 1st TD last game when Brady hit him from the 12 for an 8-yard gain before Anthony Harris made the tackle.
You can also find Brate's anytime touchdown prop at +500 at BetMGM Sportsbook today. Not quite as high of a payout, but worth a sprinkle.
1st TD – Van Jefferson
Best Available Number: +1800 at Draftkings
Jefferson has seemed to become the forgotten son since OBJ came to town. However, he is still 2nd on the team in receiving TDs with 6 but has yet to have one over the last 5 games. He could be due here and with all the talk being about OBJ's reemergence, the stellar season that Kupp has had, and even the comeback of Cam Akers; it would a nice sneaky hit here if the Rams go to Jefferson who should have much less attention on him.
Van Jefferson's anytime TD prop is available at FanDuel Sportsbook at +300 today. A $10 same game parlay on the Jefferson anytime TD prop + Brate anytime TD prop would pay out a healthy $220.