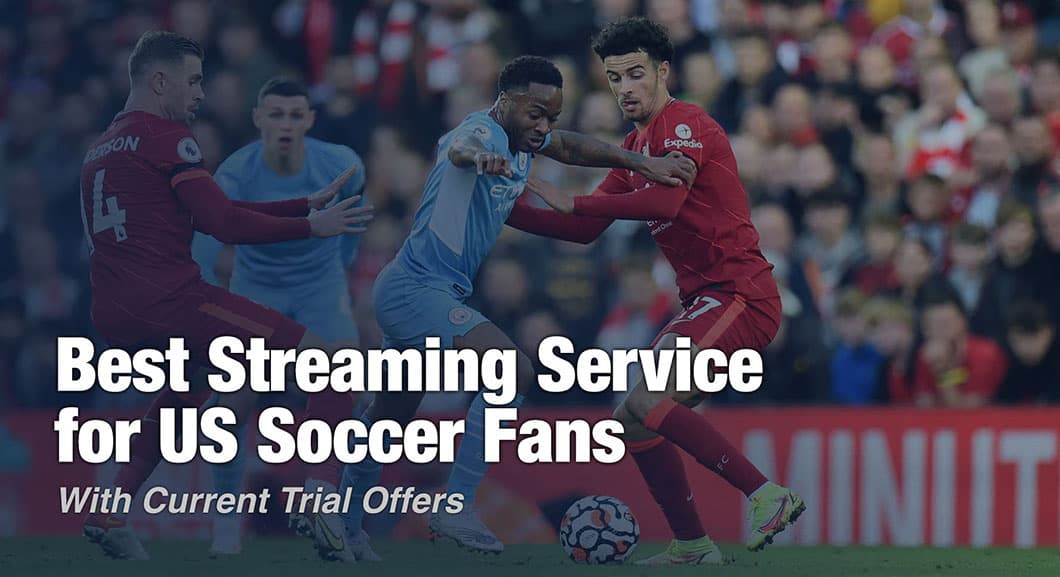 Soccer is exploding in popularity across the US. However, watching the best players in the world can be a challenge because the majority of them play in Europe. The good news is it's possible to stream every major international soccer league without breaking the bank. Find our favorite soccer streaming services, as well as the leagues they offer, in the table below.
In case you haven't noticed, soccer's popularity in the United States has grown exponentially over the last few years. Major League Soccer (MLS) trails only Major League Baseball (MLB) and the National Football League (NFL) in terms of average attendance per game. More and more kids are playing soccer in the US, so the sport should only continue to grow.
Due to soccer's meteoric rise in popularity, fans now have more streaming services to choose from than ever before. Since there are so many options available, finding the right streaming service can be time-consuming. To help save you some time, here are the four best streaming services for US soccer fans.
Best Streaming Service for Sports Bettors: FuboTV
You may be surprised to learn that fuboTV started as a soccer-only channel. Fubo did such an excellent job of streaming soccer that they were able to parlay that into becoming one of the best overall streaming services in the world. If you are serious about catching as many soccer games per week as possible, fuboTV is your best bet.
Soccer Channels Included: ESPN, FOX, CBS, NBC, BeIN, ACC Network, Big Ten Network, CBS Sports Network, FS1, FS2, NBC Sports
Price: $64.99 for Starter, $69.99 per month for Pro, $79.99 per month for Elite
Apps Available On: iOS, Android, MAC, Chromecast, Roku, Amazon Fire, Apple TV, Android TV, Samsung Smart TV, XBOX, Vizio TV, HISENSE, LG TV
DVR: 250 to 1,000 hours, depending on which package you choose
Overall Grade: A+
FuboTV may be a little on the expensive side, but it's easily the best choice for hardcore soccer fans in the US. The $65 may seem like a lot but it's the same price as YouTube TV with far more soccer channels. FuboTV made its name by being the best source for soccer fans.
Both the Starter and Pro package offer 112 channels. The Pro is $5 per month higher than the Starter, but it comes with 750 more hours of DVR time and 7 more screens. Folks who want even more soccer coverage can opt for the Elite package, which comes with 165 channels.
Want to hear something else incredible about Fubo? They have their own sportsbook, Fubo Sportsbook. Right now, sports bettors in Iowa or Arizona can bet up to $1,000 risk-free. Simply sign up using the promo code EWB123 and get your risk-free bet and one month of free FuboTV!
---
Best Option for Families: Hulu + Live TV
Hulu is one of the most successful streaming services in the world, as they reportedly generated $4.4 billion in revenue during 2020. In 2021, Hulu had over 43 million subscribers. Soccer fans in the US will get a good selection of games and folks who don't like sports will appreciate all the different channels that Hulu offers.
Sports Channels Included: ABC, CBS, FOX, NBC, ACC Network, Big Ten Network, CBS Sports, ESPN, ESPN2, ESPN News, ESPN U, ESPN College Extra, FS1, FS2, Golf Channel, NFL Network, Olympic Channel, SEC Network, Telemundo, and TNT
Price: $68.99 per month for LIVE TV Only Plan
Apps Available On: All Apple and Android devices, Roku, Amazon, Chromecast, XBOX, Samsung, LG, Nintendo, PlayStation, Xfinity Flex, and Vizio
DVR: 50 Hours of Cloud DVR Storage, can upgrade to 200 Hours for an additional fee
Overall Grade: A-
Hulu is the best option for soccer lovers with families. There are a ton of different sports channels and soccer enthusiasts will be more than satisfied with the MLS and Premier League coverage. However, Hulu does not carry BeIn, so fans of the Spanish and Italian leagues may not get all the matches they want.
The reason we recommend Hulu for families is its expansive offering of shows and movies. This will help sports fans keep their wives and kids happy while they stream their favorite soccer team.
Hulu is a bit pricey, but it's only a few bucks more than fuboTV. However, Hulu only offers 75 channels, which is considerably less than fuboTV's 112 channels. That's the main reason we gave Hulu a B+ grade instead of an A.
---
Best for Soccer Fans on a Budget: DAZN
Do you love to watch soccer but also need to trim some dollars off your TV budget? DAZN may be the best choice for you. DAZN is a sports-only streaming service that was created by sports fans for sports fans. The service is centered around boxing and soccer and subscribers can watch live events or utilize the on-demand feature.
Sports Included on DAZN: Soccer, Boxing, Darts, Indoor Football, Billiards, and Wrestling
Price: $19.99 per month or $99.99 per year ($8.33 per month)
Apps Available On: iOS, Android, Amazon Fire, Android TV, Apple TV, Chromecast, LG Smart TV, Roku, Samsung Smart TV, VIZIO SmartCast TV, Xfinity X1, Xfinity Flex, XBOX One, and Playstation 4
DVR: None Available
Overall Grade: B+
DAZN is a good option for soccer fans who like to watch the Premier League or the UEFA Champions League. There is also a wide variety of soccer documentaries for fans to enjoy. Keep in mind though that you won't be able to stream MLS games on DAZN.
One aspect that limits DAZN is that they only offer sports content. That may be fine for serious sports fans, but folks with wives and kids would need an additional streaming service to fit their needs. Overall though, DAZN is a good option for sports fans on a tight budget or a decent add-on for additional soccer content.
---
Best for Under $10 Per Month: Fanatiz
For the most cost-effective streaming service for soccer, look no further than Fanatiz. After enjoying a one-week free trial, soccer fans can enjoy live games for less than $10 a month! Better yet, if you pay for a full year upfront, the price drops to only $6.67 per month.
Sports Included on Fanatiz: Soccer
Price: $9.99 per month or $79.99 per year ($8.33 per month)
Apps Available On: iOS, Android, Amazon Fire TV, Android TV, Apple TV, Google Chromecast, and Roku
DVR: None Available but has over 1,000 hours of On-Demand Content
Overall Grade: B-
We are big fans of Fanatiz, especially since they provide coverage for over 25 of the top soccer leagues from around the world. Soccer fans will love all of the stats and highlights that are available from Fanatiz's vast On Demand offerings.
With Fanatiz, you'll get four different beIN channels as well as two different GOLTV channels. Nine other premium soccer networks are also offered by Fanatiz. For less than $10 a month, Fanatiz is a no-brainer for devoted soccer fans.