The tight end position in fantasy football has been synonymous with a single name for the last decade. Travis Kelce has been top 10 in fantasy production every season since 2014 and was the top PPR tight end in six of the previous seven years. According to Pro Football Reference's Hall of Fame Monitor, which measures the likelihood that a player gets enshrined in Canton, Kelce already ranks 6th among all tight ends in NFL history.
To put it in perspective, he has more receiving yards than Rob Gronkowski, more touchdowns than Shannon Sharpe and more All-Pro nods than Antonio Gates. To summarize, Kelce's picture could have been in the dictionary next to 'tight end' for the last decade, and it would be difficult to form an argument to the contrary.
In addition to Kelce, three other tight ends were among the most common players on championship-winning fantasy rosters in 2022, according to ESPN. It's no surprise that Kelce led the way at 21.4% (4th overall), while George Kittle (19.8%, tied for 6th), TJ Hockenson (15.3%), and Evan Engram (11.7%) also contributed to the happiness of many fantasy managers last year.
With the draft season approaching quickly, we'll dive into the best tight end options at various points in the draft and how to address this position for your 2023 rosters.
2022 Fantasy Tight End Recap
Eight tight ends managed to post a weekly scoring average above 10 points last season in PPR leagues, led by Kelce's 18.6, which would also have tied him for 6th among receivers with Ja'Marr Chase. Kittle played in 15 games and averaged 13.4 points per appearance, ranking second at the position, while Hockenson and Mark Andrews tied for third with 12.7 point averages.
Kittle had one of the more impressive stretches of the year from Weeks 15-18 when fantasy managers need players performing at their best. The four-time Pro Bowler averaged 21.6 points per game, peaking in Week 16, where he posted six catches, 120 yards, and two touchdowns in San Francisco's win against Washington.
Regarding consistent high-scoring efforts, Kelce was at the top of the class once again. The Chiefs' #1 target notched seven games with 20+ PPR points in 2022, three more than the next closest duo of Kittle and Andrews. Only three other players had multiple such efforts last season: Hockenson, Juwan Johnson, and Cole Kmet.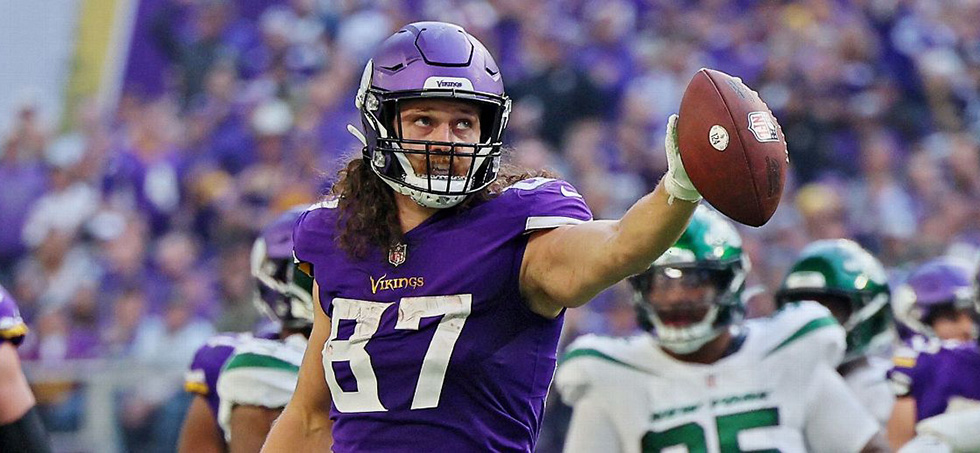 Top Fantasy TEs Heading into 2023
Kelce is yet again being drafted in the first round of both PPR and half-PPR formats ahead of the 2023 season, according to FantasyPros. Two other tight ends are currently going in the top 50 selections, with Andrews being taken 32nd and Hockenson going off the board around the 50th pick in PPR leagues.
Hockenson saw 86 targets in 10 games as a Viking last season following a midseason trade from Detroit. The Iowa product averaged 13 fantasy points per game from Week 9 on, including three games with 10+ targets when playing with Kirk Cousins. 2022 was Hockenson's second season as a top-five tight end following a TE5 finish in 2020.
The drop-off between Kelce and Hockenson, the second-highest-scoring tight end in 2022, was over 100 fantasy points. That's as much as the difference between Hockenson and the 19th-best player at the position, Zach Ertz, and further emphasizes Kelce's value to a roster even when being drafted before elite receivers and running backs.
Andrews has challenged him at the top of the position rankings in recent years and is the only tight end to outscore Kelce over an entire season since 2015. Despite missing two games and his starting quarterback for a significant amount of time, Andrews finished as TE4 in 2022.
All signs point to Kittle pairing with Brock Purdy again in 2023 if the young QB is healthy in time for the season. Kittle was TE1 over the six weeks that Purdy started for San Francisco last year and missed his fewest number of games in a season since 2019 (two).
Darren Waller signed the most lucrative contract for an NFL tight end this offseason when measuring by average annual value and will begin a new chapter with the New York Giants after missing 14 games in 2021-22. His mid-career resurgence earned him a shot to pair with Daniel Jones, who signed a new deal after a career year under Brian Daboll.
Rookies to Watch in 2023
Six tight ends were selected in the first two rounds of the NFL Draft in April, led by the lone first-rounder, Utah's Dalton Kincaid, taken by the Bills with the 24th pick. Iowa's Sam LaPorta and Notre Dame All-American Michael Mayer were drafted back-to-back with picks 34 and 35. LaPorta will suit up for the Lions while Mayer takes over for Waller in Vegas.
For the rest of these early draftees, Luke Musgrave from Oregon State was selected 42nd by Green Bay, followed by a couple of Big Ten standouts that included Michigan man Luke Schoonmaker going 54th to Dallas and Penn State's Brenton Strange being picked by Jacksonville at 61.
Fourteen rookie tight ends have eclipsed the 100-point mark in PPR scoring in the last ten seasons. Most recently, Atlanta's Kyle Pitts (2021), Pittsburgh's Pat Freiermuth (2021), and former Jaguar Evan Engram (2017) all reached 150 points or more in their first professional season.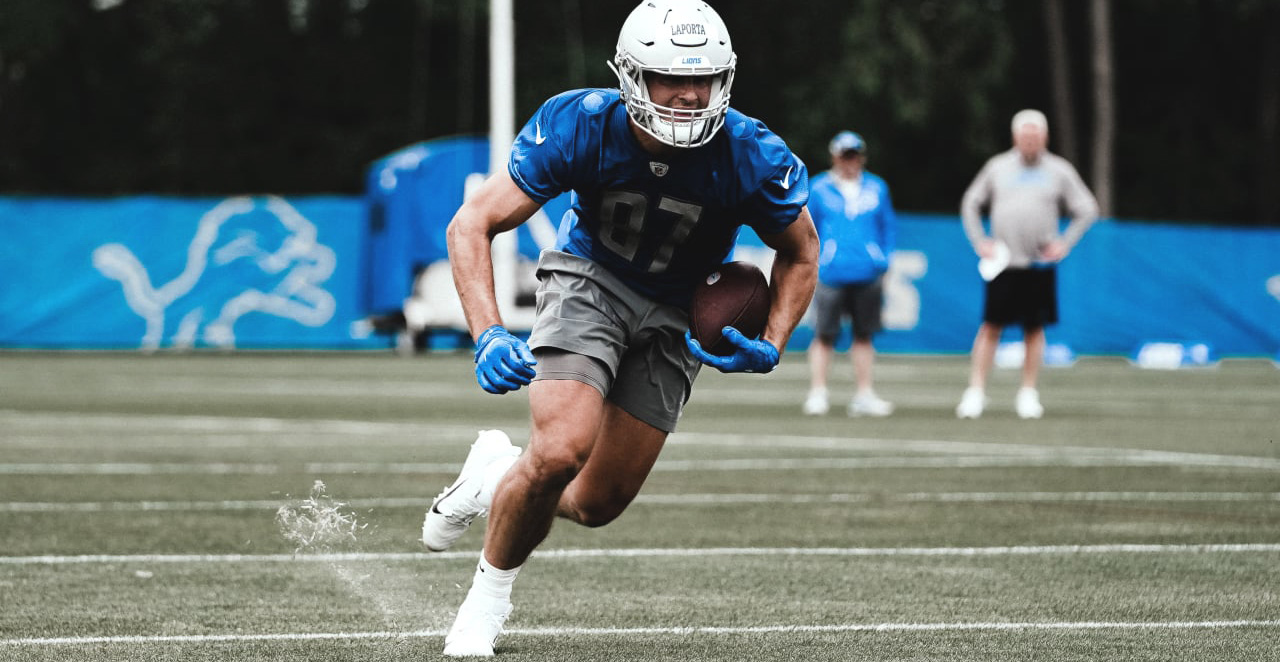 Tight End Draft Strategy Options
We've outlined some of the best at the position in recent years and who the likely up-and-comers are for the 2023 season, so let's highlight the different players available at various points in the draft based on each fantasy manager's strategy in a 12-team PPR league.
First-Round Lock: Travis Kelce (KC)
We've made a case for why Kelce is a bonafide first-round player; now it's up to fantasy managers whether they will use that amount of draft capital on a tight end. For those who have over the last seven years, they likely weren't disappointed.
Worth a Look Early (Rounds 3-5): Mark Andrews (BAL), TJ Hockenson (MIN), George Kittle (SF)
This trio could all be considered the #2 targets on their teams. They are proven commodities in the fantasy game, with multiple top-five finishes among their position group in recent years. If you've already secured one to two top-20 players at receiver and running back, these guys could provide a nice balance to your starting lineup with high-end potential.
Middle Round Players With Upside (Rounds 6-9): Kyle Pitts (ATL), Dallas Goedert (PHI), Darren Waller (NYG), Evan Engram (JAX), David Njoku (CLE), Pat Freiermuth (PIT)
This group consists of starting caliber players regardless of the format in most leagues. Players like Pitts, Goedert, and Waller struggled in 2022 due to injuries that forced them to miss five games or more, but Goedert and Waller were top-12 in points per game when they did suit up.
Engram and Freiermuth finished as TE8 or better last season with new quarterbacks and could cement themselves as perennial fantasy starters with another strong year in 2023.