It seems like it was just a few weeks ago that the 2021 World Series ended with the Atlanta Braves defeating the Houston Astros in 6 games. Lots of hardcore baseball fans worried we wouldn't even have a 2022 season. Thankfully, things in the baseball world have returned to normal and most teams already have around 42 games under their belts.
Here is a look at the current odds for each MLB team to win the World Series from FanDuel Sportsbook. Find the two World Series futures bets we would make today below the odds. Best of luck on the diamond this season!
2022 World Series Betting Odds
Current Odds from FanDuel SportsBook
| Team | Odds |
| --- | --- |
| Dodgers | +300 |
| Astros | +370 |
| Blue Jays | +1700 |
| Braves | +1000 |
| Angels | +500000 |
| Rays | +4500 |
| Giants | +30000 |
| Cardinals | +2500 |
| Mariners | +3800 |
| Marlins | +500000 |
| Tigers | +500000 |
| Royals | +500000 |
| Rockies | +500000 |
| Pirates | +500000 |
| Orioles | +12000 |
| Team | Odds |
| --- | --- |
| Yankees | +450 |
| Mets | +600 |
| Brewers | +4500 |
| Padres | +2500 |
| White Sox | +6000 |
| Phillies | +3500 |
| Twins | +7500 |
| Red Sox | +30000 |
| Guardians | +4500 |
| Rangers | +500000 |
| Cubs | +500000 |
| Diamondbacks | +500000 |
| Athletics | +500000 |
| Reds | +500000 |
| Nationals | +500000 |
A Look at the 8 Teams Seeing the Most World Series Betting Action
There are eight teams that have been favorites amongst bettors throughout the season. Here is a look at how each team could end up finishing as the 2022 World Series Champions and our two best World Series futures bets to make today.
1. Los Angeles Dodgers (+450)
Reason Why They Could Win: Despite the exits from this past off-season, the Dodgers are still one of the top teams in the league. Even without Max Scherzer, the Dodgers still feature a rotation that is one of the best in the league.
They also have a lineup full of young superstars who are well on their way to breaking out. Newcomer Freddie Freeman has given this team an automatic boost! This lineup dominates the current MVP odds list and is going to be a tough out this season.
2. New York Yankees (+600)
Reason Why They Could Win: They are the Yankees and even though they haven't spent money yet, they certainly will. Even though they failed to land Corey Seager, they still have big boppers Anthony Rizzo and Joey Gallo. The Bronx Bombers currently have the best record in the MLB at 30-13.
The Yanks still have one of the top arms in the league in Gerrit Cole. Combining them with Aaron Judge and Gio Stanton still makes the New York Yankees one of the best and most dangerous teams in all of Major League Baseball.
3. Houston Astros (+800)
Reason Why They Could Win: They have a dangerous lineup, even though they lost Carlos Correa to the Minnesota Twins. Justin Verlander returns to head up a rotation that dominates nearly every AL team it comes across. Led by All-World 2B Jose Altuve, this offense continues to be one of the most dangerous hitting teams in the league.
4. Toronto Blue Jays (+1000)
Reason Why They Could Win: A great pitching staff combined with a fantastic lineup full of future stars. Guys like Bo Bichette, Cavan Biggio, and Vladimir Guerrero Junior make up the next big three in the league that will dominate in my opinion.
Along with a complement piece like George Springer, the Blue Jays boast one of the best lineups in major league baseball. They will be looking to party like it's 1993 again north of the border in Canada if the Blue Jays can bring home a title this year.
5. Milwaukee Brewers (+1100)
Reason Why They Could Win: Corbin Burnes and the lineup of hard-hitting young stars to compliment him. Besides Burnes in the rotation, they also have Josh Hader to compliment him in the back end of the bullpen. As long as Christian Yelich stays healthy, the Brewers are probably the most complete team in the NL Central.
6. Atlanta Braves (+1700)
Reason Why They Could Win: A healthy Ronald Acuna Jr! The Braves won the World Series without Ronald Acuna Jr., which should scare every other team in the league. When he went down, everyone wrote Atlanta off.
However, GM Alex Anthopoulos brought in Eddie Rosario and Jorge Soler to bring home the Braves' first World Series since 1995. Even though the Braves have only started 20-23, all things point to this lineup getting hot in the near future.
7. Chicago White Sox (+2000)
Reason Why They Could Win: The Southsiders have a young core that should only continue to get better as the season goes on. Chicago is a team that dominated a terrible AL Central in 2021 and they are much improved since last year.
The Chi-Sox still feature a young core with a dominant lineup and a serviceable rotation. It could be a fun year on the southside of Chicago as the White Sox will look to win their first world championship in 17 years.
8. Tampa Bay Rays (+2500)
Reason Why They Could Win: Arozarena, among other reasons. A great pitching staff accompanies a young hard-hitting lineup. The Tampa Bay Rays are the last piece of the puzzle to bring the title home to Tampa after the Bucs and Lightning have done it.
They have been on the doorstep several times and just have not been able to get into the building. The Rays are currently 4.5 games outside the Yankees for 1st place in the AL East but the boys in pinstripes are bound to cool off at some point. Tampa Bay always finds a way to contend!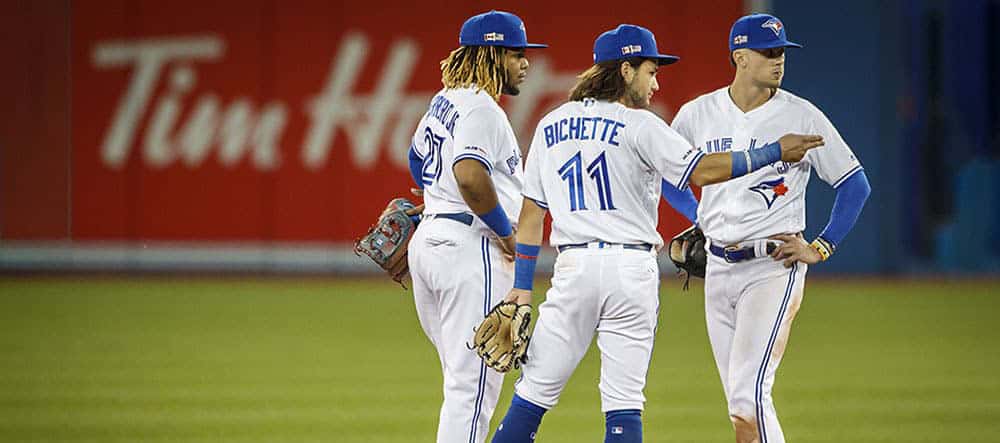 Best Bet to Win the 2022 World Series: Toronto Blue Jays
Best Available Odds:  +1100 at Unibet
Even though they didn't make the playoffs in 2021, the Blue Jays still finished the season 20 games above .500. Playing in the AL East is rough, but Toronto should be the most dangerous team in that division in 2022.
We expect the Red Sox and Yankees to both take a few steps back this season. That leaves Tampa Bay as the only team in Toronto's way. The Rays are a scrappy bunch but the power of Guerrero, Bichette, and Springer should be able to get the Jays over the hump this season in the AL East.
Don't forget that the Jays also brought in 3B Matt Chapman in the offseason. Chapman, an All-Star back in 2019, hit 27 homers and drove in 72 runs for Oakland last season. The former first-round draft pick makes this lineup even more potent.
When we look at the projected starting rotation for Toronto, we like their chances even more this season. The Jays have four quality starting pitchers in Jose Berrios (3-2, 4.75 ERA), Kevin Gausman (4-3, 2.25 ERA), Hyun-Jin Ryu (1-0, 6.00 ERA), and Alek Manoah (5-1, 1.62 ERA). Toronto also added a nice fifth starter by bringing in Yusei Kikuchi, a solid lefty who is currently 2-1 with a 3.47 ERA.
We wish the odds were a little bit better, but we still think there is plenty of value in the +1000. Even with their slow start, take the Toronto Blue Jays as our best bet to Win the 2022 World Series.
Bonus Bet to Win the 2022 World Series: Atlanta Braves
Best Available Odds:  +1700 at FanDuel
Call us crazy if you want to, but we think the Braves have a legitimate chance of repeating as world champs in 2022. A lot of Braves Country thinks that the sky is falling since they weren't able to re-sign 1B Freddie Freeman. Though Freeman was the franchise player, newcomer Matt Olson is no slouch.
The 28-year-old hit .271 with 39 homers and 111 RBI last season for the A's. Olson may not be the pure hitter or the clubhouse leader that Freeman is but this kid has a ton of power. The Braves were wise enough to sign Olson to an 8-year deal shortly after he came over in a trade.
Olson brings power to a lineup that already had plenty of it. Ozzie Albies (30 HR), Austin Riley (33 HR), Marcell Ozuna (18 HR in 2020), and Adam Duvall (38 HR) all have the type of titanic swings that scare the pants off of starting pitchers. The crazy thing is MVP candidate Ronald Acuna Jr. is finally healthy, which makes this lineup even more dangerous!
Atlanta's starting rotation is also pretty deep. Left-hander Max Fried (4-2, 3.27 ERA) will be the ace of the staff with veteran righty Charlie Morton (3-3, 4.95 ERA) eating up a ton of innings in the #2 slot in the rotation. Youngsters Ian Anderson (3-3, 4.07 ERA) and Huascar Ynoa (0-2, 13.50 ERA) have both gotten off to slow starts but they both have the type of quality stuff to bounce back in a big way.
The Mets have started off the season with a bang by leading the NL East with a 29-16 record. That means that the Braves (20-23) are 8 games back, which is not ideal. Nevertheless, this team knows how to win and we don't mind putting a small bet on them to win the 2022 World Series at the 17 to 1 odds.