Outside of working on fantasy football research, finding valuable season-long player futures is my favorite thing to do in the months before the start of the season. The one thing to keep in mind when placing these futures is that you must find ones that have tremendous upside and low risk.
Sure, it would be easy to place a big-ticket on the top RB or WR to lead the league in yards, but with the threat of injury to anyone; this typically isn't the best practice. Instead, we search to find longshots that we can sprinkle a bit here or there, that have tremendous upsides and could pay largely on a small wager.
We will dive into a few options we like in a few categories with a brief synopsis of why we like them. As always, use this as a piece of your research, do not just blindly follow. These plays are meant to be fun and give us rooting interest all year with the potential of a nice payout.
All odds courtesy of FanDuel Sportsbook.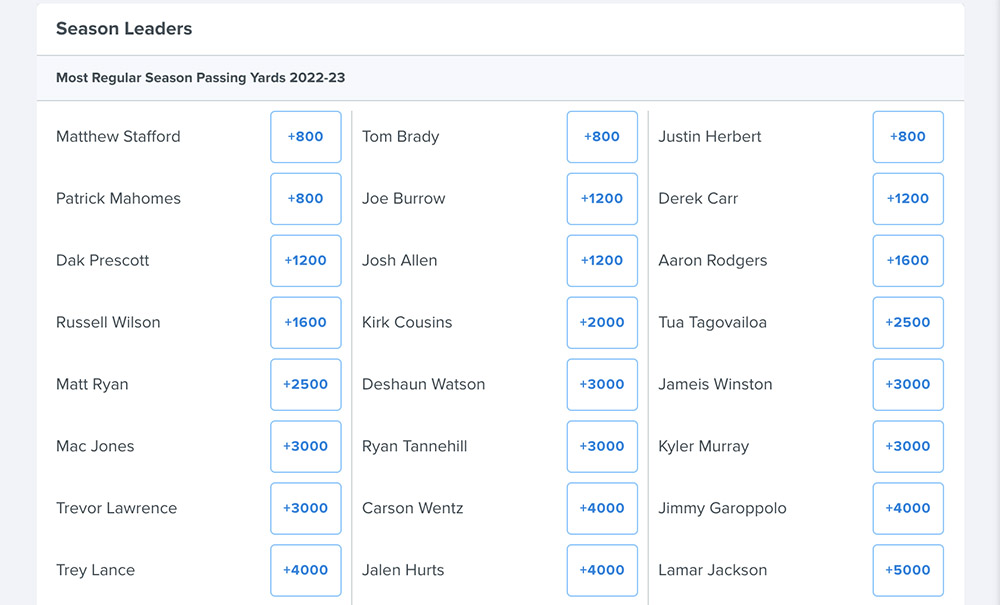 NFL Most Passing Yards Best Bets
2021-22 Leader: Tom Brady - 5,316 yards
2022-23 Best Bet: Russell Wilson +1800
2022-23 Long Shots: Trevor Lawrence +2800 & Jalen Hurts +3500
Russell Wilson is now in Denver but it won't just be the thin air that will have him throwing a lot, his new head coach is former Green Bay offensive coordinator, Nathaniel Hackett. Russ has always had a strong arm, but with a new offensive attack, we believe he has a good shot at racking up the yards in Denver.
Trevor Lawrence also has a new head coach, former Eagles HC, Doug Pederson. Doug loved to throw the ball around the field during his stint in Philly and with a young gunslinger like Lawrence, we expect him to have the Jags airing it out, early and often. Oh, and the fact that they will be trailing in many games will also help boost those passing numbers.
Jalen Hurts has a new toy at his disposal in AJ Brown to go with DeVonta Smith. Miles Sanders is a pass-catching threat out of the backfield and Dallas Goedert has wide-out abilities at the tight end position. At 35-1, we can't pass up that long shot.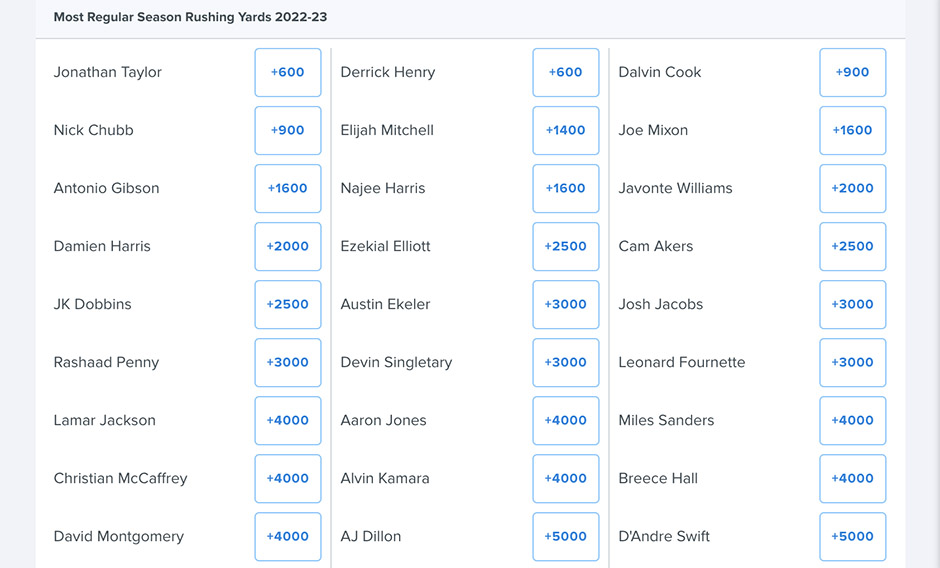 NFL Most Rushing Yards Best Bets
2021-22 Leader: Jonathan Taylor - 1,811 yards
2022-23 Best Bet: Cam Akers +1800
2022-23 Long Shots: Saquon Barkley +4000 & Rashaad Penny +3000
Cam is healthy and looked explosive in the playoffs last year after coming back from injury. The Rams will still be a strong offense and should be holding leads into the 4th quarter which could allow Akers more carries against tired defenses.
Saquon has a new head coach in Brian Daboll. His know strength as a coach has been his flexibility in nurturing the strength of the current team. No offense to Daniel Jones, but Barkley has the most talent on this offense. Now, with more time to get healthy, Saquon could be primed for a huge 2022.
Chris Carson seems to be having setbacks in his recovery from a scary neck injury and Penny is assuming the starting role. Last year, Penny finished with 750 yards in minimal work. This year, his number of carries should increase and if he is able to maintain his 6.3 yards per carry average, the sky is the limit for him.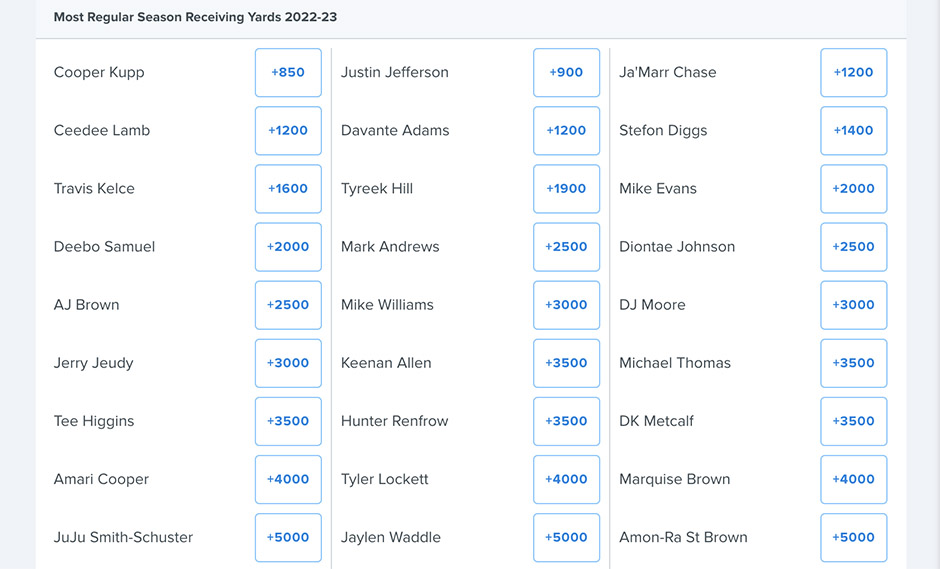 NFL Most Receiving Yards Best Bets
2021-22 Leader: Cooper Kupp – 1,947 yards
2022-23 Best Bet: Mike Evans +2000
2022-23 Long Shots: Amon-Ra St. Brown +4000 & Michael Pittman Jr +4000
Chris Godwin is likely going to ease in very slowly this year for the Bucs as he recovers from a torn ACL and MCL. With Godwin out and/or limited, Evans should be getting plenty of looks from the GOAT (Brady). Brady led the league last year in passing, if he is going to have numbers close to that this season, he will have to do it with Evans for the most part.
Amon-Ra St. Brown had 90 catches and almost 1000 yards in his rookie campaign. With another offseason to work with his QB and the offense, St. Brown could potentially put up even bigger numbers in year two. The Lions will be trailing most games, giving way to the passing game being used more than the rushing attack.
The Colts' main target had 88 catches and just over 1000 yards last year with Wentz being at the helm for a majority of the season. This year, Pittman Jr will be catching balls from Matt Ryan, who should help bolster the numbers. At 40-1, he is well worth the sprinkle along with St. Brown.