The Major League Baseball season is already six weeks old and most teams have played around 35 games. Although several teams like the A's, Giants, and White Sox have had surprisingly fast starts, the Los Angeles Dodgers and New York Yankees are currently still the top favorites to compete in the 2021 World Series. Is there any value in the Dodgers at +320 to repeat as World Series champs?
The focus of this article will be examining the current World Series odds over at FanDuel. It is never too early to think about what teams provide good value for the betting portfolio. We will discuss three teams for you to consider adding to your pending wagers for this MLB season.
Current 2021 World Series Odds
Updated Odds from FanDuel SportsBook
| Team | Odds |
| --- | --- |
| Dodgers | +320 |
| Yankees | +700 |
| Padres | +800 |
| Mets | +950 |
| White Sox | +1100 |
| Braves | +1500 |
| Astros | +1800 |
| Brewers | +2100 |
| Red Sox | +2200 |
| Athletics | +2200 |
| Cardinals | +2400 |
| Blue Jays | +2400 |
| Rays | +2500 |
| Angels | +3000 |
| Twins | +3200 |
| Team | Odds |
| --- | --- |
| Phillies | +3400 |
| Indians | +3600 |
| Reds | +4500 |
| Giants | +5500 |
| Nationals | +5500 |
| Cubs | +6000 |
| Royals | +6000 |
| Marlins | +10000 |
| Mariners | +10000 |
| Orioles | +15000 |
| Diamondbacks | +20000 |
| Rangers | +20000 |
| Rockies | +25000 |
| Tigers | +25000 |
| Pirates | +25000 |

Best Bet to Win the World Series: Atlanta Braves +1500
The Braves were oh so close to upsetting the Dodgers in the NLCS last season as they came up just short in Game 7. All of the major pieces have returned for Atlanta in 2021, so it is a mystery to us why the Padres and Mets are currently listed ahead of them in World Series odds. No, the Braves have not gotten off to a great start. However, their best starting pitchers are finally getting healthy and the offense has really improved in the last couple of weeks.
As the defending champs, the Dodgers do indeed deserve to be the favorite. However, tying up an investment on them for nearly six months and only a 3 to 1 payoff seems lame. The Braves offer much better odds at 15 to 1 and their overall roster is comparable to the mighty Dodgers.
We expect the reigning NL MVP Freddie Freeman to start raking the ball like he always does to get this team heading in the right direction. Also, Ronald Acuna Jr. may end up being this year's NL MVP if he keeps up his torrid pace! When in good form, the Braves lineup has very few weaknesses, and opposing pitchers will hate facing them come playoff time.
Don't sleep on this Braves starting pitching rotation either. Max Fried is one of the best young lefties in the MLB when he is healthy, and the kid has the stuff to be a true ace. Also, bringing in veteran Charlie Morton was a great idea for Atlanta, as he knows how to buckle hitters knees with that sick curveball. The nicest surprise for the Braves so far has been the emergence of Huascar Ynoa, as he is currently 4-1 with a minuscule 2.23 earned run average in seven starts.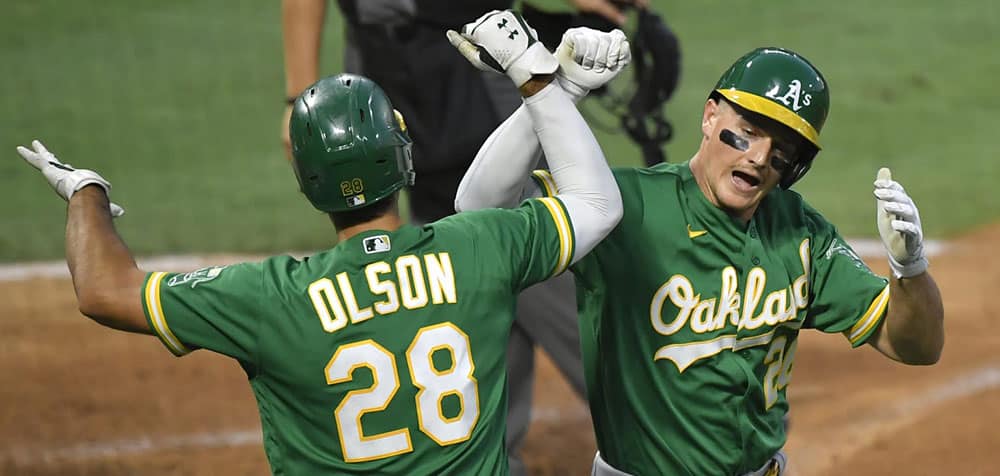 Best Longshot World Series Bet: Oakland A's +2200
Don't look now but the A's currently have the best overall record in the American League. We do not know how Billy Beane does it, but the guy keeps cranking out competitive baseball squads with a shoestring budget. The A's have been doing more with less since the Moneyball era and we expect them to possibly shock the world this season.
Oakland's young pitching staff with Frankie Montas, Sean Manaea, and Chris Bassitt are a delight to watch because they know how to keep hitters guessing. The Matts (Chapman and Olson) have continued to provide good pop in the lineup with a combined 12 homers so far this season. Youngsters Mark Canha, Ramon Laureano, and Seth Brown have also been pleasant surprises at the plate.
We know it will be tough for the A's to get by the mighty Yankees and their unlimited wallet come playoff time, but this team is scrappy enough to get it done. The most talented teams with ungodly payrolls do not win all the time in baseball, which is what makes the game so great. Our prediction is that the A's will be this year's version of last year's Rays. No one thought the Rays would even make the playoffs and they ended up in the World Series.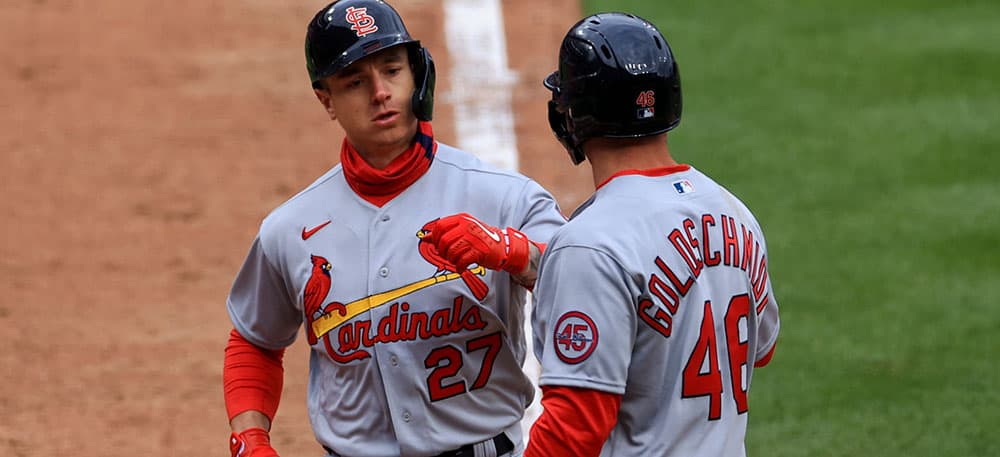 Sleeper World Series Bet: St. Louis Cardinals +2400
We simply cannot pass up the good value of 24 to 1 on the Cardinals to win the World Series. This franchise has a long and fruitful history of winning world championships and they could add to that list in 2021. The off-season signing of slugger Nolan Arenado is already paying huge dividends for the Cardinals' offense.
Arenado leads the team in runs batted in and provides a powerful one-two punch with fellow big bopper Paul Goldschmidt. The huge surprise of the year so far has been the emergence of Paul DeJong. This guy is absolutely murdering the ball and leads the team in home runs with seven!
Let's also remember that the National League Central is pretty weak this year. The Chicago Cubs and Milwaukee Brewers are both not what they used to be. This makes the Cardinals' path to the postseason that much more of a smoother ride.
Probably the most underrated part of this Cards team is their starting pitching staff. Jack Flaherty has pitched lights out so far. Guys like Adam Wainwright (yes, he's still there), Carlos Martinez, and Jon Gant are having decent seasons as well.
There is a popular saying in baseball that good pitching beats good hitting any day! If the Cards starting rotation can stay healthy all year long, there is plenty of value in their +2400 odds to win the World Series. We know they want to send their leader (Yadier Molina) out a winner this year!
Browse Latest Articles