The FCS crowned their champion in Sam Houston State over the weekend. The brief glimpse at college football in May had to make sports bettors wish it were already September! The advantage to betting futures is that sports investors can get a jumpstart for the upcoming season.
Today, we will look at the mighty Southeastern Conference. The main question is can anyone tame the Tide? Big Bad Bama is a hefty favorite at -150 odds to repeat as SEC champs! Let's check out the odds for each SEC team, and of course, we will provide three futures wagers to consider adding to your betting portfolio. All odds updated from FanDuel on a daily basis!
Current SEC Championship Odds
Updated Odds from FanDuel SportsBook
| Team | Odds |
| --- | --- |
| Alabama | -150 |
| Georgia | +180 |
| Texas A&M | +1200 |
| Florida | +1700 |
| LSU | +2500 |
| Ole Miss | +3000 |
| Auburn | +4000 |
| Team | Odds |
| --- | --- |
| Tennessee | +5000 |
| Kentucky | +6000 |
| Missouri | +6000 |
| Mississippi State | +10000 |
| South Carolina | +15000 |
| Arkasas | +25000 |
| Vanderbilt | +25000 |
Subscribe to EatWatchBet
Get our picks delivered direct to your inbox!
Favorite Bet to Win SEC Championship: Alabama -150
We HATE laying juice on future plays, but we have to invest where the value is. Let's face the hard truth that no team in the SEC is going to dethrone Alabama in 2021. Sure, Bama lost a ton of guys to the NFL Draft but that has become the norm under Nick Saban.
Bama never rebuilds, they only reload, and 2021 will be no different. Mac Jones went from a relative unknown behind Tua Tagovailoa in 2019 to a near Heisman winner in 2020, to a first-round draft pick of the New England Patriots in 2021. With Jones now gone, the show belongs to former five-star recruit Bryce Young!
Young looked phenomenal in Alabama's A-Day game this spring. The 6-foot 194 pounder is a true dual-threat quarterback who can decimate defenses with his arm or his legs. The reason Young is listed as an early Heisman favorite is that he reminds lots of people of Lamar Jackson.
Yes, Bama will miss All-World running back Najee Harris, who moved on to the Pittsburgh Steelers as a first-round draft choice. However, the running back cupboard is ALWAYS full in Tuscaloosa. Brian Robinson returns and he will be hungrier than any other tailback in the country after being in Harris's shadow for so long. The fifth-year senior is another big bruising back (6-1 228 lbs) that Alabama seems to churn out year after year!
We think Bama should be around a -250 favorite to win the SEC Title, so we will swallow the juice and lay the -150 price. The nice thing about this bet is that, barring any significant injuries, Alabama should win the SEC West going away. If that happens, you can set yourself up for a nice middle opportunity by taking the points with whomever the team is from the SEC East division in the conference title game. Holding an Alabama (-150) SEC Title ticket along with a Georgia +6 or Florida +10 could be a nice piece of the action once December rolls around.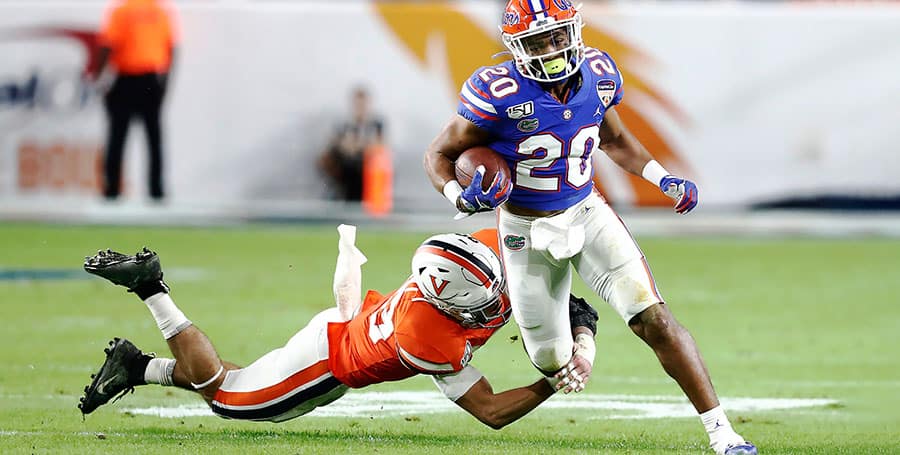 Favorite Longshot to Win SEC Championship: Florida +1700
How in the world are Dan Mullen and the mighty Gators so undervalued at 17 to 1 odds? While we agree that Georgia is the best team in the SEC East division, there is no way Georgia should be +180 with Florida +1700. There is not that much difference between these two rivals.
Sure, Florida loses a ton on offense with Kyle Trask, Kyle Pitts, and Kadarious Toney headed to the NFL. However, coach Mullen is a bit of a quarterback whisperer and we see him developing the skills of Emory Jones quite a bit in 2021. Though he has not played much (86 career passing attempts), this will be Jones's fourth year on campus in Gainesville.
Jones has the skill set that Mullen loves because he possesses great speed and a great deal of arm strength. Even though Pitts and Toney are gone, Jones should have plenty of playmakers to throw the ball to in guys like Jacob Copeland, Trent Whittemore, and Xzavier Henderson. Malik Davis is a solid running back as long as he can stay healthy.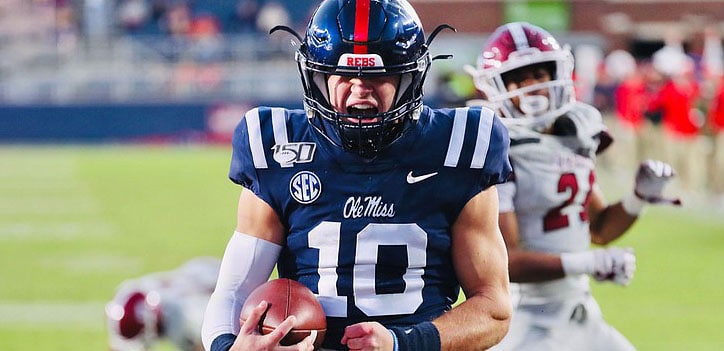 Bonus SEC Championship Bet: Ole Miss +3000
Choo Choo, here comes the Lane Train, baby! At the generous price of 30 to 1, why not throw a couple of bucks down on Lane Kiffin's insanely efficient offense? Though Bama is the best play for the SEC Title, don't forget how much trouble the Rebels offense gave Alabama's defense last year. In fact, the Rebels offense was one of the best in the country in 2020 (39.2 points per game).
Love him or hate him, Kiffin is the most brilliant offensive mind in all of college football. Here's the scary thing. Kiffin has all of his weapons coming back to Oxford in 2021. QB Matt Corral will return to lead the offense that will surely put up Playstation type of numbers again in 2021.
The Ole Miss offensive line will bring back four out of five starters from last season and that should be a nice foundation to protect Corral. Running back Jerrion Ealy has plenty of speed to burn and is almost impossible to catch in the open field. One of the main question areas for Kiffin's offense will be who will replace NFL draft pick Elijah Moore.
Either Braylon Sanders or Dontario Drummond will have to step up as Corral's new premier target. Also, former lightning-fast QB John Rhys Plumlee should get plenty of playing time in the slot receiver position. Expect Kiffin to have plenty of tricks up his sleeve when it comes to creatively finding ways to get Plumlee the football.
The downside of this Ole Miss team is their defense. The Rebels really struggled to stop the run and had an awful time trying to get pressure on the quarterback in 2020. However, Kiffin is a fine recruiter, so hopefully, he was able to sign some much-needed talent to add to the defensive line.
Browse Latest Articles