The 2021 NFL Draft wrapped up a few days ago with hundreds of young football players achieving their lifelong goals of becoming professionals. Many NFL teams were able to address some crucial needs and better their overall rosters. Astute NFL bettors are always looking for an edge in the betting markets and that includes handicapping who will be the NFL Rookie of the Year in 2021.
Remember, the NFL Rookie of the Year is actually two awards because there are both offensive and defensive players selected. It is no surprise that Clemson's former All-World QB Trevor Lawrence is the heavy favorite for the Offensive Rookie of the Year. Do the +270 odds offer any value for sports investors?
Let's pinpoint four wagers that we believe have a considerable amount of value. We will choose two players on offense and two on defense that we think have a decent chance of winning the NFL Rookie of the Year and, more importantly, put some money in our pockets. First, let's take a quick look at the current NFL ROY odds over at PointsBet.
Current Offensive Rookie of the Year Odds
Updated Odds from PointsBet SportsBook
| Player | Odds |
| --- | --- |
| Trevor Lawrence | +270 |
| Justin Fields | +500 |
| Zach Wilson | +700 |
| Trey Lance | +900 |
| Mac Jones | +950 |
| Kyle Pitts | +1300 |
| Player | Odds |
| --- | --- |
| Ja'Marr Chase | +1500 |
| Najee Harris | +1500 |
| Travis Etienne | +1500 |
| Devonta Smith | +1700 |
| Jaylen Waddle | +1700 |
| Trey Sermon | +2600 |
Current Defensive Rookie of the Year Odds
Updated Odds from PointsBet SportsBook
| Player | Odds |
| --- | --- |
| Micah Parsons | +550 |
| Jeremiah Owusu-Koramoa | +750 |
| Kwity Paye | +850 |
| Jaelan Phillips | +900 |
| Jamin Davis | +1100 |
| Player | Odds |
| --- | --- |
| Patrick Surtain II | +1100 |
| Zaven Collins | +1300 |
| Jaycee Horn | +1500 |
| Azeez Ojulari | +1700 |
| Caleb Farley | +1700 |
As you might expect, if you are looking for value on the offensive side of the ball, you are better off looking at non-QB bets. The top five betting favorites for the 2021-2022 NFL Offensive Rookie of the Year award are all quarterbacks. This almost defies logic as five of the last eight winners have been non-QB offensive players. With this in mind, we shifted our attention to RB/WR/TE options with odds over +1000.
Best Bet for Offensive Rookie of the Year: Kyle Pitts (+1300)
Falcons fans probably hate to hear this, but Julio Jones is showing signs of aging and is more injury-prone than ever. The "Dirty Birds" were desperate to give veteran QB Matt Ryan another go-to guy besides youngster Calvin Ridley, and that's just what they did by drafting an absolute man-child like Pitts with the fourth overall pick in the first round. Yes, we know that no tight end has ever won the Rookie of the Year award, but Pitts definitely has the skills necessary to change that.
At 6-6 and nearly 250 pounds, Pitts will be a dream target over the middle for Ryan and will drastically improve the Falcons offense in 2021. Most NFL scouts think that Pitts is the most NFL-ready player in the entire draft. The former Florida Gator may be listed as a tight end but he is basically an overgrown receiver!
We expect Pitts to be a focal point of the Atlanta offense from Day 1 so getting 13 to 1 on him with this bet seems like a smart move. With so many defenders worried about covering Jones and Ridley, Pitts could find plenty of room to rack up lots of receiving yards and score an eye-popping number of touchdowns. Get on this bet now, before it drops down to 10 to 1 or so.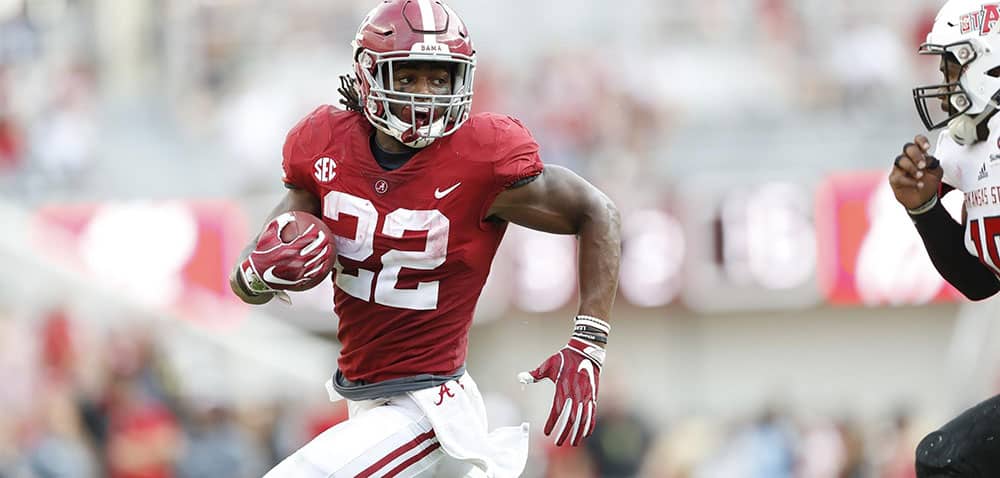 Bonus Bet: Offensive Rookie of the Year: Najee Harris (+1500)
Mike Tomlin and the Steelers management made taking some pressure off of Big Ben a top priority by drafting a stud running back like Harris in the first round. Have you seen this kid's insane jump hurdle move? Geez, it is simply unreal!
At 6-2 and 230 pounds, Harris is an absolute load to bring down to the ground for any defender. Harris is a big bruising type of back that will fit in perfectly with the Steelers hard-nosed style of football. We expect Harris to get plenty of carries to help out the aging Roethlisberger and the Steelers offense.
Another reason that Harris has value, especially at 15 to 1 odds, is his remarkable ability to catch the football. In fact, most folks believe that Harris has the best hands of any running back in this year's draft class. The fact that Harris can find the end zone in a variety of ways makes us like our investment in him for Rookie of the Year even more.
Best Bet for Defensive Rookie of the Year: Micah Parsons (+550)
While we usually do not recommend taking the favorite in regards to NFL Futures betting, we had to break our own rule here. Parsons is the best defensive player in the entire draft and he will step right in as a starting linebacker for the Dallas Cowboys. The 'Boys were flat terrible on defense last year so they were thrilled to snag Parsons with the 12th overall pick in the first round.
Parsons only played two years at Penn State but showed an uncanny ability to be a force against both the run and the pass! During his sophomore season, Parsons had 109 tackles, five sacks, and a robust 14 tackles for loss! The 6-3 245 pounder is also quick enough to provide good coverage over the middle of the field.
Bonus Bet: Defensive Rookie of the Year: Asante Samuel (+3300)
This play is a bit of a longshot but we love getting 33 to 1 with a true ball hawk like Asante Samuel Jr. Samuel is a high risk-high reward type of corner who loves to go for the big play. To win an award like Rookie of the Year, a player needs to create some highlight reel type of plays. Samuel has the ability to do just that in the way of some pick-sixes!
We expect the Chargers to surprise a lot of folks in the AFC West this year and for Samuel to get plenty of playing time. Samuel comes from good NFL bloodlines as his dad played corner in the NFL for 11 years. The Chargers were pleasantly surprised that Samuel fell to the second round and was more than happy to pick him at pick number 47.
Browse Latest Articles