We have seen some massive swings in both the Offensive Rookie of the Year and Defensive Rookie of the Year odds over the past month. Before we jump into the current odds and the rookies worth backing at this point in the season, let's recap our preseason picks and some of the major moves up and down over the past few weeks.
Micah Parsons has completely run away with the DPOY award and was the best call from our preseason picks. We're holding a Micah Parsons ticket at his +550 preseason odds, he is currently sitting at -5000 and looks like one of the best players in the NFL.
On the offensive side of the ball, we elected to fade all of the quarterbacks from this class and target two position players, Jaylen Waddle and Najee Harris. While both players have had fine seasons, the fact that Mac Jones has looked great with the Patriots currently holding the 1 seed in the AFC has tanked their odds.
Jones has shot up from +400 to -400 since our last update, J'Marr Chase has seen a slight bump up from +400 to +300, as the rest of the OROY field has faded back. It is interesting to see Chase's odds improve while Waddle's have fallen despite actually outproducing Chase over his last five games (Dolphins 5-0 run) with 37/437/2 to Chase's 22/263/3.
Here is a look at the current Offensive and Defensive Rookie of the Year odds:
Current Offensive Rookie of the Year Odds
Updated Odds from PointsBet SportsBook
| Player | Odds |
| --- | --- |
| Mac Jones | -400 |
| Ja'Marr Chase | +300 |
| Jaylen Waddle | +5000 |
| Devonta Smith | +10000 |
| Javonte Williams | +10000 |
| Player | Odds |
| --- | --- |
| Najee Harris | +10000 |
| Elijah Mitchell | +10000 |
| Justin Fields | +15000 |
| Rashawn Slater | +15000 |
| Kyle Pitts | +15000 |
Current Defensive Rookie of the Year Odds
Updated Odds from PointsBet SportsBook
| Player | Odds |
| --- | --- |
| Micah Parsons | -5000 |
| Patrick Surtain II | +1000 |
| Jayson Oweh | +5000 |
| Player | Odds |
| --- | --- |
| Jeremiah Owusu-Koramoa | +10000 |
| Jamin Davis | +10000 |
| Asante Samuel Jr | +10000 |
Best OROY Bet to Make Following NFL Week 14 Games
Unlike most years there is not a lot of competition for the Offensive Rookie Of The Year award in the National Football League. In fact, when you really study the numbers there are only three players who truly stand out as potential winners.
One of them is New England Patriots QB Mac Jones. Next to him is Pittsburgh Steelers RB Najee Harris and Cincinnati Bengals WR Ja'Marr Chase.
On the outside looking in is Miami Dolphins WR Jaylen Waddle and Denver Broncos RB Javonte Williams, who both didn't start heating up until late in the year. Our best bet for Offensive Rookie Of The Year truly comes down to Najee Harris, Mac Jones, and Ja'Marr Chase.
If you are making an Offensive Rookie of the Year bet at this point in the season and are not holding a Mac Jones ticket, he has to be the pick. In a year where every other first-round QB has disappointed, Jones has the Patriots at 9-4 and has looked rock-solid in the process.
Even with what will be an extra two games, Jones' final numbers will not come close to what Herbert did his rookie season but he has given the Patriots consistent QB play and has taken them from a 7-9 team to the best team in the AFC.
On the season, Jones has completed over 70% of his passes, is averaging just over 220 yards per game, and has a 2-to-1 TD/INT ratio. He has also played extremely well against opponents in the playoff hunt. This includes 320 yards and 2 touchdowns against the Titans, 200 yards and 3 touchdowns against the Browns, and 275 yards and 2 touchdowns against the Bucs.
This is clearly his award to lose but does have a tough remaining schedule, which could open the door for Ja'Marr Chase or Jaylen Waddle should either player have a monster final month of the season and lead their team to the playoffs.
Nevertheless, -400 is probably a little too generous at this point as Jones can lock this award up by simply staying the course at this point.
For complete transparency, you can find all of our rookie of the year best bet picks as the season has played out below.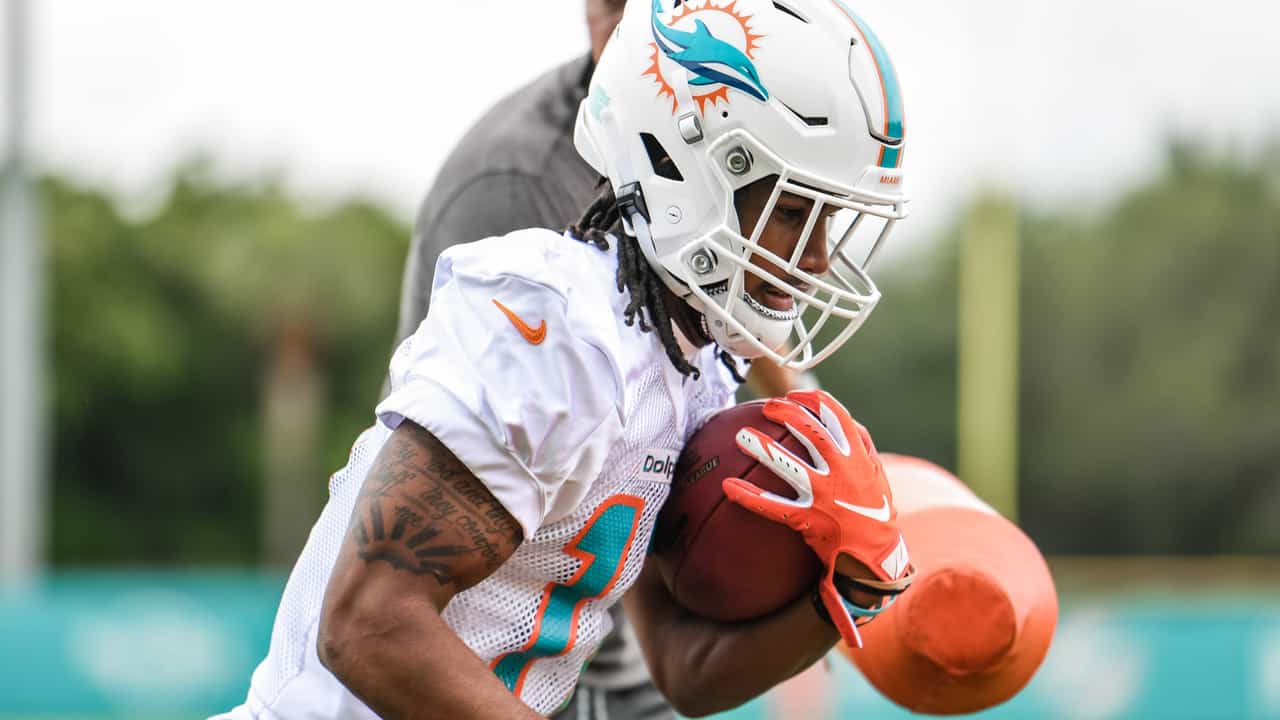 Best Bet for Offensive Rookie of the Year: Jaylen Waddle (+2500)
As you might expect, if you are looking for value on the offensive side of the ball, you are better off looking at non-QB bets. The top five betting favorites for the 2021-2022 NFL Offensive Rookie of the Year award are all quarterbacks. This almost defies logic as five of the last eight winners have been non-QB offensive players. With this in mind, we shifted our attention to RB/WR/TE options with odds over +1000.
The most recent update to the 2021 Rookie of the Year odds saw Najee Harris jump Ja'Marr Chase, Kyle Pitts, and Mac Jones. He currently sits behind only Trevor Lawrence, Justin Fields, and Trey Lance and is now the non-QB favorite to win the award.
Now that the odds on Waddle have shot past the 20 to 1 mark, we see this as a great time to make a future bet on him to win the Offensive Rookie of the Year! The 5-10 182 pound wide receiver is purely electric when he touches the football. We expect Waddle to have a huge year for the Dolphins with his old college teammate, Tua Tagovailoa, throwing the ball to him!
One reason to love Waddle to win the Rookie of the Year is that he's not just a speedy wide receiver. Did you happen to see the punt that Waddle returned in the Dolphins' first preseason game? Dear goodness! Talk about having lightning-fast turbo speed!
Some folks had some concerns about Waddle's health after he broke his ankle last October while at Alabama. Those concerns were put to rest and then some after seeing that punt return. Waddle should be handling both the punt and kick return duties for Miami throughout the entire season.
If you look at several of the NFL depth charts, you may notice that Waddle isn't currently listed as a starter at wideout. Don't let that dissuade you from investing a few dollars in him though. In the first preseason game against Chicago, Waddle got plenty of reps with the first team.
Sure, DeVante Parker and Will Fuller are seasoned veterans. However, can you honestly see head coach Brian Flores starting both of those guys instead of Waddle? There's no way that'll happen because Flores knows that Waddle is the best playmaker on his offense.
At the generous 25 to 1 price on PointsBet, we recommend a small investment in Waddle to win the Offensive Rookie of the Year in 2021.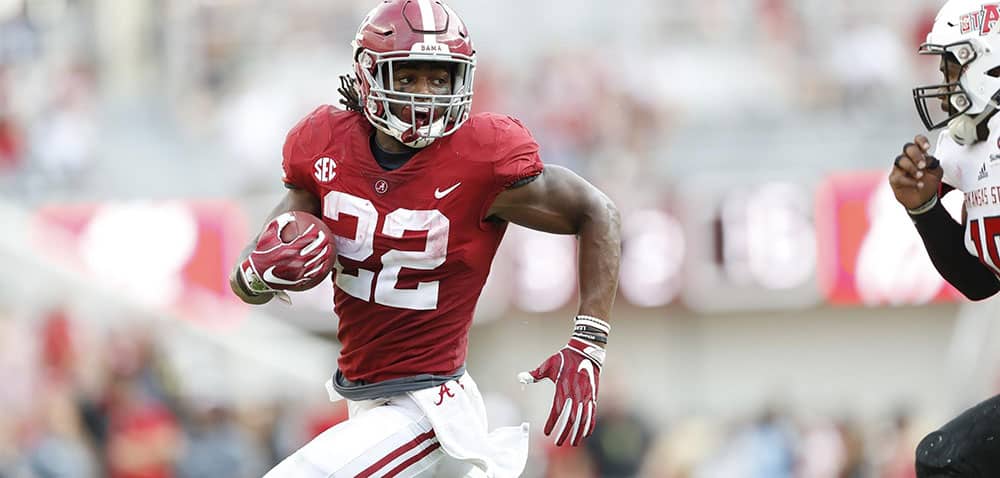 Bonus Bet: Offensive Rookie of the Year: Najee Harris (+1500)
Mike Tomlin and the Steelers management made taking some pressure off of Big Ben a top priority by drafting a stud running back like Harris in the first round. Have you seen this kid's insane jump hurdle move? Geez, it is simply unreal!
At 6-2 and 230 pounds, Harris is an absolute load to bring down to the ground for any defender. Harris is a big bruising type of back that will fit in perfectly with the Steelers hard-nosed style of football. We expect Harris to get plenty of carries to help out the aging Roethlisberger and the Steelers offense.
Another reason that Harris has value, especially at 15 to 1 odds, is his remarkable ability to catch the football. In fact, most folks believe that Harris has the best hands of any running back in this year's draft class. The fact that Harris can find the end zone in a variety of ways makes us like our investment in him for Rookie of the Year even more.
Best Bet for Defensive Rookie of the Year: Micah Parsons (+550)
While we usually do not recommend taking the favorite in regards to NFL Futures betting, we had to break our own rule here. Parsons is the best defensive player in the entire draft and he will step right in as a starting linebacker for the Dallas Cowboys. The 'Boys were flat terrible on defense last year so they were thrilled to snag Parsons with the 12th overall pick in the first round.
Parsons only played two years at Penn State but showed an uncanny ability to be a force against both the run and the pass! During his sophomore season, Parsons had 109 tackles, five sacks, and a robust 14 tackles for loss! The 6-3 245 pounder is also quick enough to provide good coverage over the middle of the field.
Bonus Bet: Defensive Rookie of the Year: Asante Samuel (+3300)
This play is a bit of a longshot but we love getting 33 to 1 with a true ball hawk like Asante Samuel Jr. Samuel is a high risk-high reward type of corner who loves to go for the big play. To win an award like Rookie of the Year, a player needs to create some highlight reel type of plays. Samuel has the ability to do just that in the way of some pick-sixes!
We expect the Chargers to surprise a lot of folks in the AFC West this year and for Samuel to get plenty of playing time. Samuel comes from good NFL bloodlines as his dad played corner in the NFL for 11 years. The Chargers were pleasantly surprised that Samuel fell to the second round and was more than happy to pick him at pick number 47.
Browse Latest Articles