Since we are heading into Week 5 of the NFL regular season schedule, we wanted to do more than just update the odds following the week 4 games. In addition to the current MVP odds, you can find an update to each of our preseason bets as well as the bet we would make today.
Before jumping into the latest updates to our picks, here is a look at the current NFL MVP odds from our friends over at PointsBet SportsBook:
Current NFL MVP Betting Odds
Updated Odds from FanDuel SportsBook
| Player | Odds |
| --- | --- |
| Patrick Mahomes | +550 |
| Kyler Murray | +550/td> |
| Tom Brady | +800 |
| Josh Allen | +900 |
| Tom Brady | +1200 |
| Josh Allen | +1300 |
| Aaron Rodgers | +1000 |
| Matthew Stafford | +1100 |
| Dak Prescott | +1200 |
| Player | Odds |
| --- | --- |
| Justin Herbert | +1500 |
| Derek Carr | +1500 |
| Lamar Jackson | +1600 |
| Russell Wilson | +2000 |
| Teddy Bridgewater | +4000 |
| Ryan Tannehill | +5000 |
| Derrick Henry | +5000 |
| Baker Mayfield | +5000 |
| Derrick Henry | +4000 |
Our Best Looking MVP Bet So Far: Kyler Murray
Kyler Murray is off to a lightning-fast start to the season. The former Heisman Trophy winner has been a touchdown scoring machine through the first three games of the year. Murray has thrown seven touchdowns while running for three scores on the ground.
The four interceptions are a bit of a concern but Murray looks super comfortable in Kliff Kingsbury's offense. We see him continuing to put up big numbers. We grabbed Murray to win MVP at +2300 odds during the offseason. The current line is +850 so we're pleased with this pick.
Our Worst Look MVP Bet So Far: Ben Roethlisberger
What the heck is wrong with this Steelers' offense? After the hot start last year, this unit has completely gone into the toilet. Big Ben is showing his age. Sure, he's thrown for 801 yards and three TDs, but he also has three interceptions.
Can Mike Tomlin right the ship? Absolutely! After all, this team did come back and steal a win over Buffalo in Week 1. However, for our MVP bet to come back from the dead, Roethlisberger is going to have to start chucking the ball deep instead of the short dink and dunk passes. We grabbed Big Ben at +9000 several months back and now the number is +20000. OUCH!
Added Bet for NFL MVP: Dak Prescott +1200
We wanted to bet on Dak to win MVP back in the summer but were scared away by all the injury news coming out of camp. Prescott looks to be in great form and shows no ill effects from the gruesome ankle injury that he suffered a year ago.
The former Mississippi State star has thrown six TDs and only two picks through the first three games. We see those numbers only getting better as the season goes on. Put us down for a few bucks on Prescott at the nice 12 to 1 price!
Find original article below:
Our Favorite Bet for 2021-22 NFL MVP: Lamar Jackson
While we were tempted to go straight chalk with Patrick Mahomes, tying up money all year long for a 5 to 1 payout does not seem like good value. The 17 to 1 number on Jackson is too juicy to pass up and we will gladly add it to our NFL betting portfolio. Ask yourself this question. How are Josh Allen, Dak Prescott, and Matthew Stafford all listed ahead of Jackson as favorites to win the MVP?
Putting three quarterbacks who have never won an MVP before ahead of Jackson is a sign of disrespect. Did everyone suddenly forget that Jackson won the MVP back in 2019? Here are a few other reasons why we gladly backed Jackson at this generous number:
Improved Passing Ability - The knock on the former Heisman Trophy winner coming out of college was that he lacked passing accuracy. Jackson has proved all of those critics wrong by posting an NFL career completion percentage of 64%. Also, do not forget about his 68 career touchdown passes and the fact that he has only thrown 18 picks.
Best Running QB - If we look at the five quarterbacks rated ahead of Jackson in terms of MVP odds, he is clearly the best running QB of the bunch. Sure, Mahomes has quick feet. However, Jackson has 19 career-rushing touchdowns while Mahomes has only 6! When betting on the MVP award, I prefer quarterbacks who can score both in the air and on the ground. Jackson fits that bill perfectly.
Comfort with the Offense - 2021 will be Jackson's fourth NFL season and he should be even more comfortable in the Ravens system. Offensive coordinator Greg Roman has vowed to build the offense around Jackson's strengths so that should allow for Jackson to improve on his 2020 stats.
More Help at Wide Receiver The Ravens knew they needed help at wideout and they got plenty of it both before and during the draft. Free-agent signees like Michael Crabtree and Willie Snead should have Jackson pumped up for a big season in 2021. Also, drafting speedsters like Tylan Wallace and Rashod Bateman should be a plus and will give Jackson more targets downfield.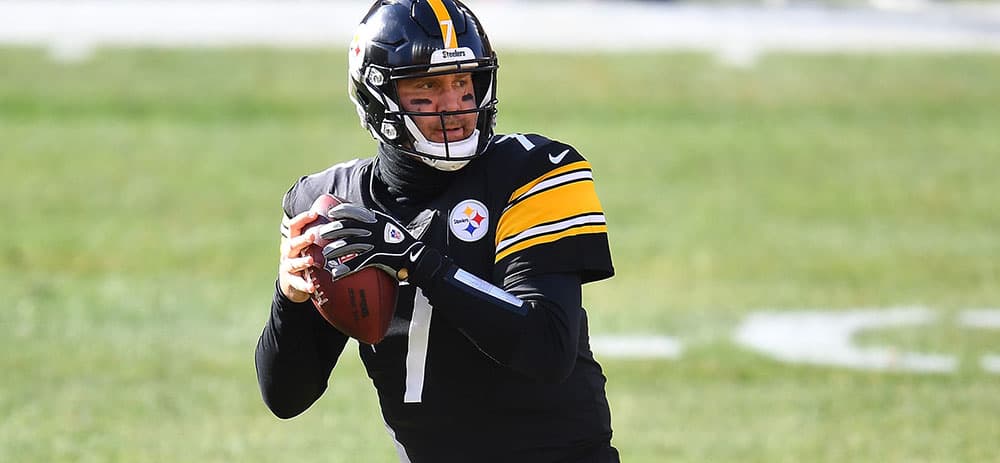 Best Longshot Bet for NFL MVP: Ben Roethlisberger (+9000)
Whispers going around Pittsburgh say that 2021 may be the swan song for Big Ben. Going out with his first MVP award would be the perfect ending for Roethlisberger and the Steelers organization. The 90 to 1 payout on this bet would have us dancing in the streets.
Roethlisberger may be 39 years old, but the two-time Super Bowl champion has plenty of good throws left in his arm. In fact, Roethlisberger had a splendid 2020 season by throwing 33 touchdowns, only 10 interceptions, and a fabulous 12-3 record as a starter. Let's also not forget that in 2018 Roethlisberger led the league in total passing yards and total completions.
We all know that Big Ben and the Steelers will be out for blood this year after being upset in the Wild Card round of the playoffs by the Cleveland Browns last year. Plus, Mike Tomlin is one of the best coaches in the league and he will have these guys more motivated than ever. 90 to 1 odds on a future Hall of Fame QB like Roethlisberger has plenty of betting value.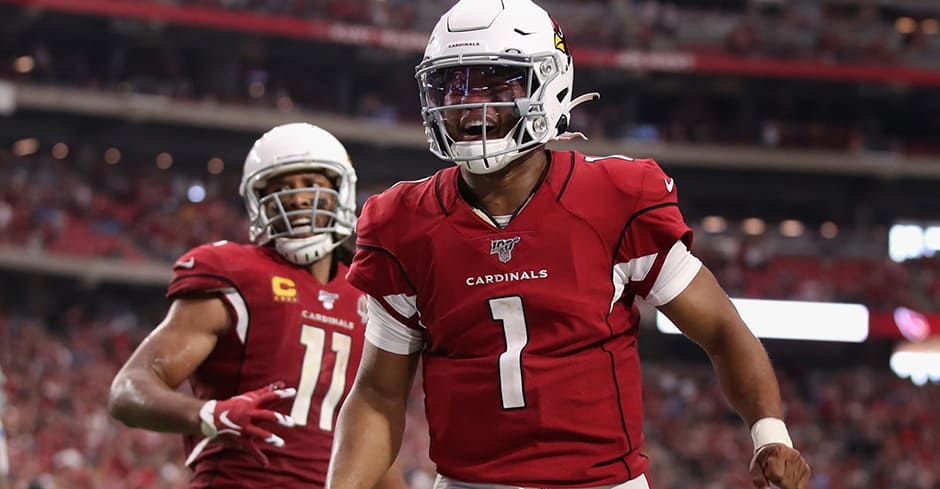 Bonus MVP Pick for 2021: Kyler Murray at +2300
Kyler Murray grew by leaps and bounds as an NFL QB during his second season in 2020. The former Oklahoma star even got the Arizona Cardinals back to a respectable record of 8-8. That's extremely impressive when you consider that the Cards were 5-10-1 in 2019.
We see Murray taking another big step in 2021 for Arizona. The 5-10 207 pound QB threw 26 touchdowns last year and also found the end zone 11 times on the ground. Both of those numbers should only go up this season.
With a 17 game season in 2021, we could see Murray throwing 35 touchdowns and running for 15 more. If Murray can do that in a tough division like the NFC West, he should at least be in the MVP conversation.
Another reason to love Murray for MVP is his supporting cast. The Cardinals have quietly put together one of the best receiving corps in the league. DeAndre Hopkins and Christian Kirk are dynamic options for Murray to throw the ball to down the field.
Don't forget about veteran A.J. Green, who comes over from the Cincinnati Bengals. Though he's not quite the beast he used to be, Green just turned 33 and should have a couple more productive seasons left in the tank. Also, look for rookie Rondale Moore to become one of Murray's favorite targets in 2021.
We love investing in dual-threat quarterbacks to win the MVP award. Murray is on the same level as Lamar Jackson, who won the MVP in 2019. At the nice price of 23 to 1, let's put a few shekels on Murray to win MVP in 2021.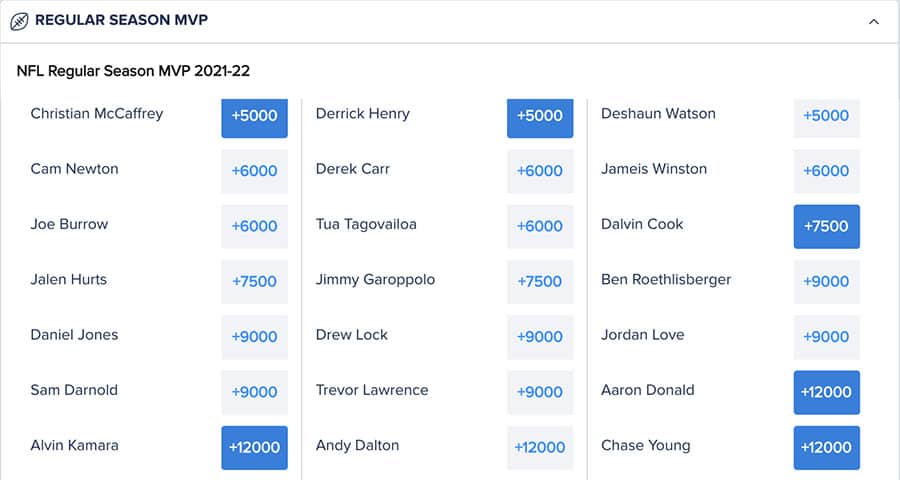 Best Non-QB NFL MVP Bet:
First and foremost, it has been 8 years since the last non-QB player won an MVP (Adrian Peterson 2012). Furthermore, there has been only one non-QB MVP winner in total since 2006. Any non-QB MVP bet is beyond a long shot, which should translate to placing a small wager on long odds.
The second thing to keep in mind when placing a non-QB MVP bet is that no wide receiver has ever won the award. In fact, more outside-linebackers (Lawrence Taylor) have won the MVP than wide receivers. So narrow your MVP list to focus on running backs capable of having a record-breaking season on a team that could win their division.
After analyzing the MVP odds of every NFL running back, we could not get away from Alvin Kamara at +12000 odds. Let us start with this, if he is able to play a full 17 game season he will finish over 1,000 rushing and receiving yards in 2021. Furthermore, simply using last season's TD production, over a 17 game season he could put up 20 rushing touchdowns and 8 receiving touchdowns.
If, somehow, the Saints can push the Bucs and maybe even steal the NFC South (which they won in 2020), how is a position player that put up 2,200 - 2,400 yards and 28 touchdowns not in the MVP discussion? We have said it for three years now, Alvin Kamara is the second-best football player in the NFL (behind Aaron Donald), can that ability translate into an MVP? If it does a $20 bet will pay off $2,400!
Browse Latest Articles