Perhaps nothing in sports is more exciting than watching college kids fight it out on the gridiron. The NFL may be king as far as TV ratings, but college football has a special passion and feel to it that the NFL lacks. In the crazy, up-and-down 2020 season, Nick Saban and the Alabama Crimson Tide once again took home the National Championship trophy.
As you might expect, Big Bad Bama is favored to win the title again in 2021, even after losing a ton of its roster to the NFL draft. However, the steep +250 price tag seems to be a bit much as far as futures betting is concerned. Who else on the early betting board offers value?
In this article, we will discuss three teams that you may want to consider adding to your betting portfolio. We think these three teams are undervalued in the betting market and that all three have a legitimate shot at making the College Football Playoff. But first, let's check out the odds from our trusty friends over at FanDuel.
Current CFB National Championship Odds
Updated Odds from FanDuel SportsBook
| Team | Odds |
| --- | --- |
| Alabama | +250 |
| Georgia | +450 |
| Ohio State | +600 |
| Oklahoma | +800 |
| Iowa State | +20000 |
| Florida | +4000 |
| Oregon | +4000 |
| USC | +4000 |
| Penn State | +5000 |
| Texas | +5000 |
| Texas A&M | +5000 |
| | |
| --- | --- |
| LSU | +6000 |
| Miami FL | +6000 |
| North Carolina | +6000 |
| Notre Dame | +6000 |
| Wisconsin | +6000 |
| Michigan | +8000 |
| Iowa | +10000 |
| Pittsburgh | +10000 |
| Tennessee | +10000 |
| Oklahoma State | +15000 |
| West Virginia | +20000 |
Favorite Bet to Win College Football Title: Ohio State +600
We are taking the Ohio State Buckeyes as our favorite bet on the college football futures board. The Bucks will be out for blood after being shellacked by Alabama in last year's national title game. Head coach Ryan Day has done a phenomenal job of recruiting loads of five-star talent to Columbus, so replacing the likes of Justin Fields, Trey Sermon, and company should not be a problem.
A big reason we are taking the Buckeyes is that the Big 10 just is not the conference it used to be. The Buckeyes really only have to worry about Penn State (who they get at home) and Wisconsin (who isn't on the schedule until possibly the conference title game) because the rest of the conference teams just don't pose much of a threat. While an early visit from the Oregon Ducks may scare some Buckeye fans, the home-field advantage will help them pull that game out in the end. Ohio State will once again have one of the easiest paths to the College Football Playoffs.
Sure, Justin Fields is off to the NFL but C.J. Stroud is one heck of a QB prospect and he looked great in Ohio State's spring game back in April. Speedster Trey Sermon also left for this NFL, but the running back cupboard is never bare in Columbus as they have an experienced bruiser like Master Teague coming back. Let's also remember that stud wideout Chris Olave decided to return for his senior season. This is huge for the Bucks as Olave is probably going to be a first-round draft pick.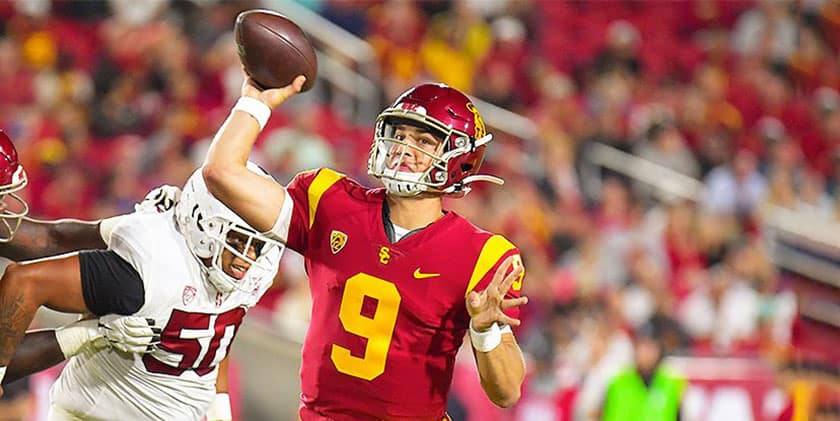 Best Longshot Bet to Win College Football Title: USC +4000
Speaking of easy paths to the College Football Playoffs, how about the Trojans? We all know that USC sports loads of NFL talent every year and 2021 will be no different. The 40 to 1 odds are a steal because the Pac 12 is so weak. Also, check out USC's schedule this year. Their only true challenge will be against rival Notre Dame.
While we are not crazy about Clay Helton's coaching ability, we love the arm strength of Trojans QB Kedon Slovis! Have you seen this kid throw a deep post pattern? Dear goodness, what a rocket arm! As usual, the Trojans will have a boatload of team speed at both the wide receiver and running back positions. The Trojans have the talent to potentially dominate the entire PAC 12 as long as Helton can keep these kids focused.
The only team that could possibly give USC a fit would be Oregon, but the Ducks are not on the regular-season schedule. An end-of-the-season game against BYU could get interesting, but the Cougars lost a ton to the draft and they don't reload as quickly as the typical powerhouse teams. Don't be surprised if the Trojans end up undefeated heading into the Pac 12 championship game on December 3.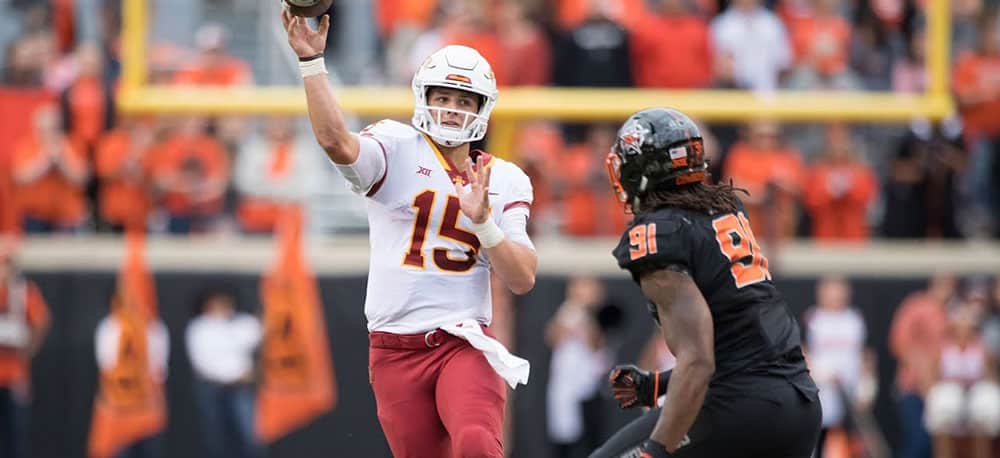 Bonus Bet to Win College Football Title: Iowa State +2000
The Big 12 better watch out for Iowa State this year! In case you have not noticed, Cyclones head coach Matt Campbell is building something special in Ames. Several NFL teams (as well as some big-name college programs) have expressed plenty of interest in luring Campbell away, but he has chosen to stay put at Iowa State.
Veteran QB Brock Purdy is returning for what seems like his ninth season (just kidding, kind of haha). Purdy is a true team leader and the guy just knows how to win! Purdy also knows how to take care of the football as evidenced by his 62 career touchdown passes and only 25 interceptions.
The Cyclones victory over Oregon in last year's Fiesta Bowl was a sign of the good things to come for this program. The conviction and belief from the Iowa State players have never been higher since they knocked off three ranked teams last season (Texas, Oklahoma, and Oregon).
Oh, don't forget that running back Breece Hall is returning and this guy is a dynamic playmaker for the Cyclones offense. Hall and the experienced Iowa State offensive line will take some pressure off of Purdy this season. Oklahoma may be the favorite in the Big 12, but we guarantee that Lincoln Riley is already losing sleep over that November 20th date with the Cyclones!
Give us that 20 to 1 shot! Go Clones! And remember, don't bet against Brock Purdy in "Brocktober"!
Browse Latest Articles