Sure, the 2021-22 NFL season wrapped up with the Los Angeles Rams hoisting the Lombardi Trophy nearly three months ago. However, as most hardcore sports bettors know, it's always football season.
With the first pick in the 2022 NFL Draft, the Jacksonville Jaguars will be on the clock at 8:00 PM EST on Thursday night. The draft will take place in Las Vegas from April 28 to April 30 and sportsbooks have plenty of betting options on the board already.
Want to get a jumpstart on your draft research? Then let's take a look at the live odds over at DraftKings on a couple of available betting options.
Current 2022 NFL Draft Odds for Number 1 Overall Pick
Odds from DraftKings Sportsbook
| Player | Odds |
| --- | --- |
| Travon Walker | -160 |
| Aidan Hutchinson | -280 |
| Ikem Ekwonu | +750 |
| Evan Neal | +1600 |
| Kayvon Thibodeaux | +2000 |
| Malik Willis | +4000 |
| Ahmad Garnder | +5000 |
| Charles Cross | +5000 |
| Kenny Pickett | +6000 |
| Kyle Hamilton | +8000 |
| Player | Odds |
| --- | --- |
| Sam Howell | +10000 |
| Matt Corral | +10000 |
| Jordan Davis | +10000 |
| Jermaine Johnson II | +10000 |
| Derek Stingley Jr. | +10000 |
| Trevor Penning | +10000 |
| Desmond Ridder | +13000 |
| Garrett Wilson | +15000 |
| Drake London | +15000 |
| Chris Olave | +15000 |
Let's do a brief breakdown of the top 7 favorites to be selected 1st overall in the 2022 NFL Draft. A longshot could come in and shock us, but the first overall pick will likely be one of these seven standout players.
Best Bet for 1st Overall Pick: Evan Neal, Alabama, OL
This kid just may be the best overall athlete in the draft. When was the last time you've ever heard that about an offensive lineman? In case you don't believe the hype, here's an insane video of Neal completing a split jump plyometric exercise.
The Jacksonville Jaguars have the first overall pick again this year and they have a dire need to protect Trevor Lawrence. Neal, a 6-7 350-pound behemoth, is the logical choice for the Jags in this spot. Most experts think that Jacksonville will take Georgia defensive end, Travon Walker, with the first pick, but at the current +1600 odds, Neal is a bargain. We'll recommend a small play on Neal to be the number one overall pick!
Aidan Hutchinson, Michigan, EDGE
Hutchinson is coming off a phenomenal season for the Wolverines. The 6-6 265-pound pass rusher finished the year with 14 sacks and finished second in the Heisman Trophy voting. Hutchinson has been on the rise in most mock drafts of late and it's easy to see why.
Jacksonville only finished 27th in the league in sacks last year, so they need a pass rusher. New Jaguars coach Doug Pederson is an offensive guy, but he may be persuaded to take Hutchinson with the first overall pick. We'd love to have Hutchinson in our draft portfolio, but there's just not enough value in the current +140 odds.
Kayvon Thibodeaux, Oregon, DE
"Thibs" is an interesting case. For a little over a year, most draft experts had the 6-5 250-pounder as a shoo-in to be the first overall pick in this year's draft. However, the former Oregon stud pass rusher missed a few games due to injury last season and only finished with 7 sacks.
Even after a somewhat disappointing season, Thibodeaux was still a 2021 Consensus All-American. He may be worth a look at the +2000 price to go number 1, but most folks have him slated to go to the Jets (4th) or the Giants (5th).
Iken Ekwonu, North Carolina State, OL
Ekwonu has a lot of the same strengths that Evan Neal does. The only difference is that Ekwonu is three inches shorter and about 30 pounds lighter. Ekwonu has amazingly athletic bloodlines, as his Mom was a track star in high school and his Dad was a college basketball star.
The former NC State Wolfpack star was a 2021 Consensus All-American who also won the Jacobs Blocking Award. Ekwonu improved his draft stock and got the Jaguars' attention a few weeks ago at the NFL Combine. Though he's still a long shot to be the first player off the board, Ekwonu's odds have improved from +1200 to +750 over the last couple of weeks.
Malik Willis, Liberty, QB
Willis is a highly skilled quarterback who reminds us a little bit of Lamar Jackson. The 6-1 215 pounder improved quite a bit at Liberty under offensive guru Hugh Freeze. Willis has a ton of breakaway speed, but the 12 interceptions he threw last year may make some scouts question his decision-making ability.
Willis could be worth a look as the first QB taken in the draft, but the only way he can go #1 is if the Jaguars trade that pick. That seems highly unlikely.
Kenny Pickett, Pittsburgh, QB
You have to admire Pickett for coming back for his fifth season and leading Pitt to an ACC championship. Pickett has good size (6-3, 220) and a ton of arm strength. The New Jersey native threw for 4,319 yards and 42 touchdowns last season, so scouts can rest assured that he knows how to push the ball down the field.
But like Willis, we can't recommend a wager on Pickett. The only way he can go #1 is if Jacksonville trades away that pick.
Charles Cross, Mississippi State, OL
Cross is an exceptional left tackle who was a mainstay on the Bulldogs' offensive line for the last two seasons. He has lots of quickness, agility, and toughness. The only concern with Cross is his ability to defend the run.
Cross can be a perennial Pro Bowler because of his superior pass blocking. However, with Neal and Ekwonu also on this draft board, we can't recommend an investment on Cross to be the first overall pick.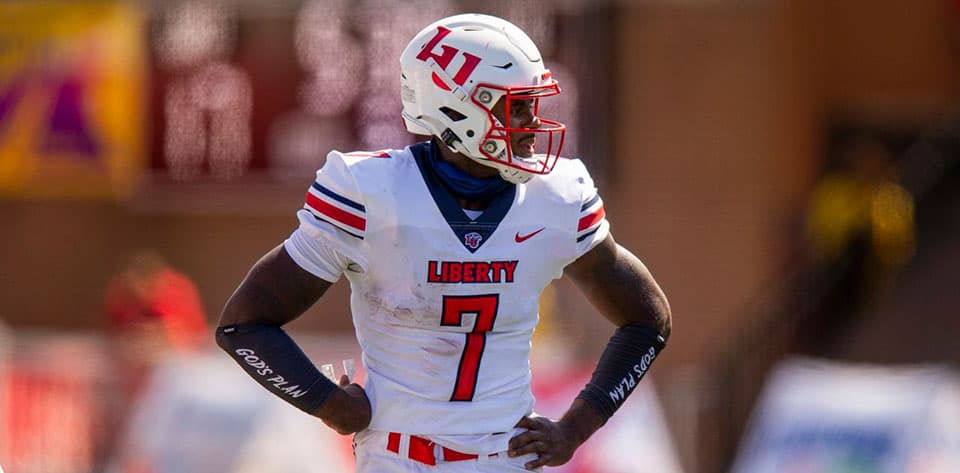 Breakdown of the 1st QB to Be Selected Odds
Here's another interesting betting option for the 2022 NFL Draft over at FanDuel. Kenny Pickett and Malik Willis are the clear-cut favorites at this point, but can Desmond Ridder or Matt Corral overtake them in the next few days? Here's a look at the current odds:
Current 2022 NFL Draft Odds - 1st QB Selected
Latest Odds from FanDuel SportsBook
| Player | Odds |
| --- | --- |
| Malik Willis | -140 |
| Kenny Pickett | +150 |
| Desmond Ridder | +1000 |
| Matt Corral | +1400 |
| Player | Odds |
| --- | --- |
| Sam Howell | +5000 |
| Carson Strong | +10000 |
| Bailey Zappe | +10000 |
| Kaleb Eleby | +20000 |
Since we've already taken a brief look at Pickett and Willis, let's break down the other three of the Top 5 quarterbacks.
Sam Howell, North Carolina
Howell is a heck of a competitor and he took the UNC program to new heights over his three seasons as a starter. The 6-1 225 pounder has a thick frame but his shorter stature may scare some teams away from drafting him.
Howell throws the ball with pinpoint accuracy and he has no problem fitting the ball into tight windows. He's also got a sneaky amount of speed that fools defenders at times. The +5000 price is tempting, but we'll pass.
Desmond Ridder, Cincinnati
Ridder wasn't highly recruited coming out of high school, but he's blossomed into a fine signal-caller. The Louisville, Kentucky native started four straight seasons for the Bearcats under center. Ridder has ideal size (6-4, 215) and is dangerous once he gets outside the pocket.
Ridder has the poise and leadership qualities to be an NFL quarterback. Ridder's stock has risen over the last few weeks and his odds to be the first QB taken have improved from +3000 to +1000. However, we don't think he'll be the first quarterback off the board, so we'll pass.
Matt Corral, Ole Miss
Lane Kiffin showing up in Oxford was one of the best things to happen to Corral. Kiffin turned Corral into a legitimate NFL prospect who has a bunch of tools to terrorize opposing defenses. Corral threw for 57 touchdowns and ran for 18 touchdowns while at Ole Miss.
Initially, our projection was that the Washington Commanders, who were in desperate need of a QB, would take Corral with the 11th overall pick. However, that projection blew up when Washington acquired veteran QB Carson Wentz in a trade with Indianapolis.
This just shows the importance of being conservative when betting on the NFL Draft, especially since one move by a team's front office can ruin your bet. If you're still wanting some action for 1st QB taken, the current +150 odds on Kenny Pickett at DraftKings may be worth a small bet.
Best Bet: 1st WR Selected: Drake London, USC
While a lot of folks are expecting Ohio State standout Garrett Wilson to be the first wideout taken, our money is on Drake London. Wilson is a heck of an athlete, but he's not even 6-feet tall. Meanwhile, London is a genetic freak at 6-5 and 219 pounds.
Most draft experts have London going to the Atlanta Falcons with the 8th overall pick. London chose not to run the 40 at his pro day on April 15. There are some concerns about London's health, as he is working his way back from a fractured ankle that he suffered against Arizona last October.
We are betting that the Falcons will be enamored with London's rare combination of size and speed. Can you imagine any secondary trying to defend London and tight end Kyle Pitts? We'll gladly take the +270 odds at DraftKings on London to be the first wide receiver off the board in the draft. Enjoy the draft fellow football fanatics!